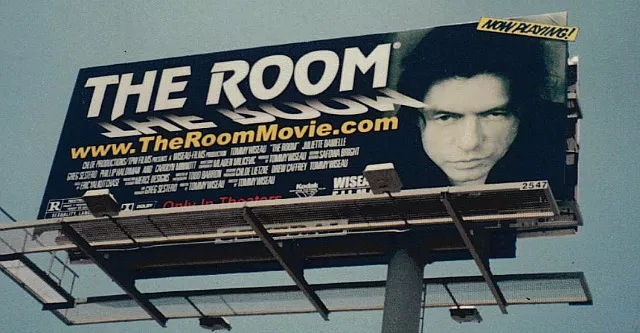 By Kaylee Brewster
"The Room" many would argue, is one of the worst films ever made and yet, since the film's release in 2003, it has gained a cult following.
Its popularity has only grown since James Franco released "The Disaster Artist," which explores how "The Room" was made. Franco plays actor/director/writer Tommy Wiseau (even winning a Golden Globe for his performance). The film is based on a book by Greg Sestero, who writes about his experiences during filming and his relationship with Wiseau.
The film's rise to cult status began with how Wiseau advertised the film. A Hollywood billboard showed a vague black-and-white portrait shot of an almost-scowling Wiseau. The ambiguity inspired some to see the movie. Celebrities and citizens soon spread the word about the "Citizen Kane" of bad movies. Wiseau paid to keep the billboard up for five years after the film was released, and it became a landmark at Highland Avenue in West Hollywood until it came down in 2008.
From there "The Room" became known as a "midnight movie," a term for a B movie or cult film shown at midnight. Fans of the flick bring footballs and roses and toss plastic spoons at the screen when the utensils appear in the film, and other such gimmicks and games.
While some B movies are bad, most are aware of their lack of contribution to cinematic art. What stands out about "The Room," is how hard it tries to be a thought-provoking drama about betrayal, love and friendship. Its attempt at seriousness makes it that much worse when it fails.
Just what makes "The Room" the worst movie ever?
Everything.
No seriously, everything.
Rotten Tomatoes sums it up perfectly with this analysis and 26 percent rating:
"A bona fide classic of midnight cinema, Tommy Wiseau's misguided masterpiece subverts the rules of filmmaking with a boundless enthusiasm that renders such mundanities as acting, screenwriting and cinematography utterly irrelevant. You will never see a football the same way again."
Because "The Room" is an epic fail, it's pretty funny to watch, which can be done this week at the Kenworthy Performing Arts Centre in Moscow. One of the best ways to enjoy it is to get some buddies together for a some horrendous hilarity. In this way, "The Room" makes it into the "so bad it's good" category — sort of.
BEST WORST QUOTES FROM "THE ROOM"
"I did not hit her! I did not. Oh hi, Mark."
"You don't understand anything, man. Leave your stupid comments in your pocket!"
"I have to go see Michelle in a little bit to make out with her."
"As far as I'm concerned, you can drop off the earth. That's a promise."
"She wants to control my life. I'm not going to put up with that. I'm going to do what I want to do, and that's it. What do you think I should do?"
IF YOU GO
WHAT: Palouse Cult Film Revival series showing of "The Room" (R)
WHEN: 9 p.m. (doors open at 8:30) Monday
WHERE: Kenworthy Performing Arts Centre, 508 S. Main St., Moscow
COST: $5
Of NOTE: Attendees must be 21 or older. There will be raffles at the door and a no-host bar sponsored by Best Western Plus University Inn.