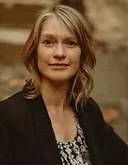 Thanksgiving Day has arrived, and for many it seems shrouded in darkness this year.
These past few weeks, the local and national news has been full of violence, uncertainty and loss. I'll be honest, there are days where I have to dig deep to find things I'm thankful for, but I do it anyway. In the past few years I've come to recognize that practicing gratitude is a form of self-care that becomes even more vital in times of challenge. While it doesn't minimize pain or loss, it can be a tool for healing and deep connection to self and others.


Thankfully, our human experience allows for love, laughter and joy right alongside mourning and anger. And it's possible that when the world seems overflowing with adversity, a gratitude practice may be even more important than ever. Acknowledging our thanks to others is shown to benefit the giver just as much as the receiver, so when the world is hurting, your practice of appreciation can be a nurturing gift.


There's a growing body of data on gratitude that indicates the more we practice gratitude, the better we attune to positive emotions and outcomes unfolding daily. In Sonja Lyubomirsky's "The How of Happiness: A New Approach to Getting the Life You Want," she describes gratitude as "a kind of meta-strategy for achieving happiness."


Gratitude is like a muscle, so if we flex it frequently, it's easier to access when darkness falls. As you start practicing gratitude, you begin looking for things to be grateful for throughout the day. You anticipate seeing friends, being in nature, connecting with co-workers or thanking those who have helped you. Feeling and sharing appreciation each day helps reveal joyful moments with more clarity and gives you greater strength to deal with challenges.


In one study, Lyubomirsky asked a group of participants to log five things they felt grateful for once a week for 10 weeks. In the control groups, participants were asked to recount five major events or struggles that occurred in the past week. The results showed those who expressed gratitude felt greater satisfaction and optimism with their lives. Additionally, their health benefited; fewer physical symptoms (such as headaches, acne, coughing or nausea) were reported, and the participants in the gratitude group spent more time exercising as well.
"Gratitude is many things to many people," Lyubomirsky says. "It is wonder; it is appreciation; it is looking on the bright side of a setback; it is fathoming abundance; it is thanking someone in your life; it is thanking God; it is 'counting blessings.' It is savoring; it is not taking things for granted; it is coping; it is present-oriented."


The great news is that there are many quick and pain-free actions that you could take to create more positivity and compassion in your life. The most common suggestion is to keep a gratitude journal where you log two to three situations or interactions that brought you joy. It doesn't have to take long; in one study participants who did this just once a week showed an improvement in happiness over time.

If journaling every day sounds like too much too soon, then here's a list of other items that may help you wade a bit more slowly into the waters of gratitude:

Send a "thank you" text or photo to someone.
Take a picture of something or someone you're grateful for each day.
Cook with love.
Thank others for their hard work.
Record and share a quick thank-you video.
Give a mindful hug.
Smile at passersby.
Notice moments when you are kind to yourself and breathe in thanks.
Your gratitude practices will become well-worn habits if you practice at the same time and place each day. For example, sneak it into your routines, when drinking your coffee each morning or while brushing your teeth. Creating a specific cue is helpful too, such as every time you get in your car and buckle your seat belt, or while you're walking the dog.


Most importantly, as you practice and share more gratitude, notice how all your little sparks of joy begin to light up the darkness for yourself, your family, your community and beyond.
Petterson lives in Moscow with her husband and their two children. She left public education to become a yoga instructor, sleep specialist and mindful parenting educator for families who want healthy sleep and connection. She loves hearing from her readers and you can reach her via her website at kristinepetterson.com.