COMMENTARY
Louis Sylvester
As much as my wife and I enjoy going out for dinner and a movie, the best date for us is an evening spent playing tabletop games with each other. Sometimes we'll sit down and play three or four games in a row. For example, we might start with a quick card game, followed by a quality Eurogame, then wrap up the evening with a playful word game challenge. There are hundreds of great card and board games available for couples. Here are a few we love to play.
Dig into a card game
The first game my wife and I ever played together is Lost Cities (age 10 and older, 15 to 30 minutes) designed by Reiner Knizia. We had just started dating and she asked me to teach her one of my favorite games, so I pulled Lost Cities off the shelf. The game played quickly and, as soon as we finished, she insisted we set it back up and try again.
In Lost Cities, players mount a number of archeological expeditions and gain points for creating the most efficient explorations. The game uses a single deck of cards numbered from 2 to 10 in five different colors. On each turn, the player must lay a card to an expedition line or one of the colored discard piles between the players. Then the player draws a card from the face-down deck or from the top of the discard pile. Cards played in an expedition line must be set down in ascending order. If an expedition line doesn't include enough cards, the player loses points for starting it, leading to difficult choices on whether to start a new line and risk losing points or discard and risk giving the opponent a beneficial move.
While Lost Cities is still widely available, a new version called Lost Cities: Rivals was recently released. This version is basically the same, but opens play up for three or four players.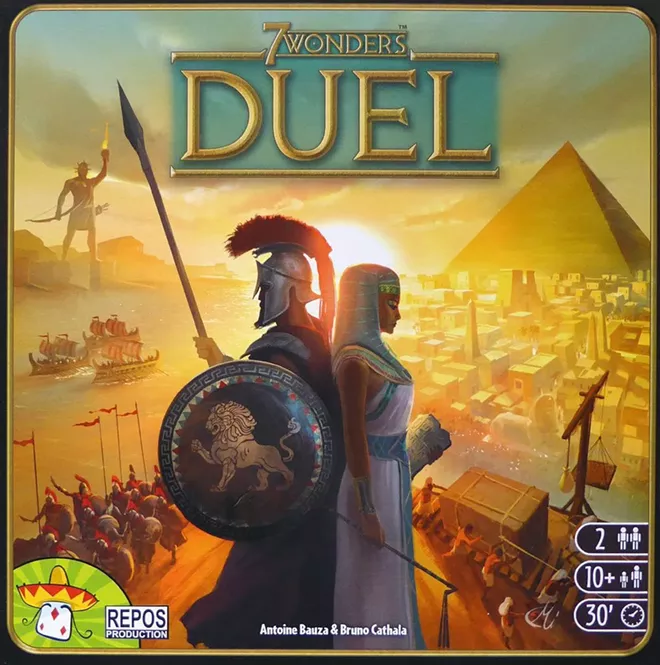 Go European
European-style games emphasize strategy. One of my favorite games of 2015, 7 Wonders Duel (10 and older, 30 to 40 minutes), designed by Antoine Bauza and Bruno Cathala, is an elaborate experience for couples. Like most Eurogame designs, 7 Wonders Duel is an elegant game that allows players to make interesting choices with little downtime between turns.
Players each acquire cards in order to develop an ancient civilization. Players draw from a display of face-up and face-down cards which can be built, discarded for money or used towards building a wonder. When built, some cards offer players resources for building better cards, some allow technology development, and some increase military might, which may allow a player to overpower the opponent.
Although there is a learning curve to the rules, players can learn the game by watching an instructional video on Youtube. Simply type in "Watch it Played 7 Wonders Duel," and check out one of the most enjoyable two-player experiences available.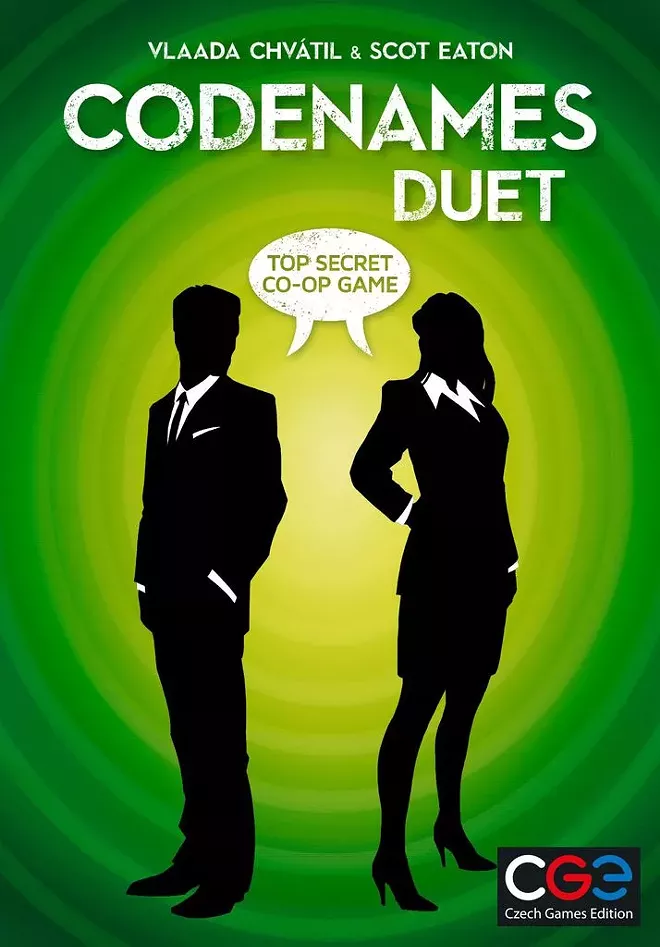 A Playful Word Game Challenge
After playing competitive games, a wonderful way for couples to wrap up a game night is with a fun cooperative challenge like Codenames: Duet (age 11 and older, 15 to 30 minutes) designed by Vlaada Chvátil and Scot Eaton.
To play this game, players deal out 25 word cards in a five-by-five grid. A key card is placed standing in a holder between the players. It shows a grid that corresponds to the cards on the table. Then each player examines their side of the key card, which colors some spots green to represent agents and a few spots black to represent assassins. A player says a single word in the hope of directing the teammate to point to your agents. The teammate points at a card and, an agent is touched, may continue guessing. If an assassin is touched, you lose. Turns are limited, so a player must offer the teammate a word that will allow multiple guesses in a single turn.
Couples should be warned that although most of the time this game will lead to laughing and cheering, occasionally a partner will miss an obvious clue, pick an assassin, and cause a loss. Therefore, only play this game if you can express temporary frustration without hurting your partner's feelings.
If you enjoy Codenames: Duet, a version called Codenames can be played at large group social gatherings for as many as a dozen players.
SIDEBAR
Want more games for two? Here's a few titles worth investigating if you...
Like solving puzzles: There are a number of fabulous escape room-style card games including the Exit series and the Unlock series.
Are intrigued by the idea of creating and developing a romantic relationship: Fog of Love is worth your attention.
Enjoy reading together: The Sherlock Holmes: Consulting Detective series allows you to solve mysteries as a team. Each box comes with 10 mysteries that take roughly two to three hours each.
Have 15 minutes of free time: In the game Patchwork players spend buttons like money and fit patches together in an attempt to make the best quilt.
Sylvester is an associate professor in the creative writing program at Lewis-Clark State College and co-author of the rip-roaring adventure "Legends of the Lost Causes," set in a fantasy West. He enjoys gaming every week with his wife and friends. You can send your questions about tabletop games to him at lnsylvester@lcsc.edu.