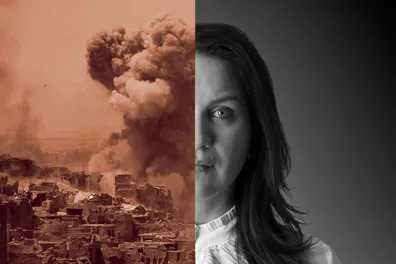 The New York Times' well-made podcast "Caliphate" is worth a listen on two fronts.
On one side, it offers an in-depth look at ISIS, the Islamic State of Iraq and Syria. On the other, it goes behind the scenes, showing the dangerous work that investigative journalists can face telling that story.
The 10-chapter series follows Rukmini Callimachi, who covers terrorism for The New York Times, as she attempts to understand the roots and growth of ISIS. This leads her to Canada, where she interviews an average young man who became convinced of ISIS' cause and traveled to Syria to join the movement. It also takes her to the front lines in the Middle East, where she and her team follow the military into war zones to collect documents from buildings bombed only moments before. She describes the sights and sounds: dead bodies and the smell of burning plastic.
It's heavy subject matter but it's treated with dignity and respect. We hear how ISIS members have attempted to intimidate or threaten Callimachi and how she has reacted. In a later chapter, she interviews a young girl kidnapped by ISIS for sexual slavery, and listeners hear Callimachi balancing her questions with deep compassion and the task of rooting out the truth. She then uses information she's gathered to find one of the men who bought the girl and confront him with the girl's story.
The podcast leaves the listener with a greater understanding and appreciation for`the care journalism takes in telling stories that would otherwise go unheard -- including its own.