Offer someone a box of plums and you're more likely to get a raised eyebrow than an expression of gratitude -- most of us don't know what to do with a box of plums.
Over the past 25 years, Moscow's Jeanne Leffingwell has had countless boxes of plums to figure out what to do with. That's what happens when you've got more than Italian Prune plum trees in your backyard. She has canned, frozen, dried and jammed plums, developing recipe after recipe that features the plum goodness that drops annually from the trees.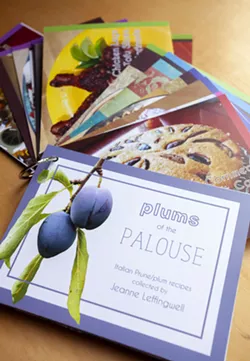 "Most people either don't know about them or they look at all the plums that fall onto the ground and think 'Ew,' " Leffingwell said.
Leffingwell is releasing a recipe card-size collection of nearly 30 recipes that feature the fall-time fruit. Included are recipes you might expect -- cookies, cobblers, cakes, pies and the like -- along with those you might not, like Brandy Plum Sorbet and Instant Plum Jam. Savory dishes include Pounti Pudding and Chops with Plum Sauce.
Plums made their way into Leffingwell's kitchen after she and her husband got saplings from friends. The trees will quickly form a dense thicket, so to make harvest easier the Leffingwells planted them in a grassy area so they could mow around them. More started growing after Leffingwell tossed pits in a back corner of her yard.
The sugars in the plum reach their full flavor after the first fall frost. That's when harvest happens at the Leffingwell home. Italian Prune plums are freestones, which means they release easily from the pit, making processing easier.
Besides working on her recipes, Leffingwell learned that plums were once part of the Palouse economy. A Genesee homesteader, David R. Davis, had 850 Italian Prune plum trees in the late 1800s. He dried the fruit on a large scale. Dried plums were also a primary commodity in Elberton, a former Whitman County settlement.
Plums have high nutritional value, Leffingwell said. In addition to their more widely-recognized role in moving things along in the intestinal tract, plums are high in antioxidants, have compounds that support bone health, and they don't spike blood sugar levels like most dried fruit.
"People don't realize how special these guys are," Leffingwell said.
The recipe collection will be sold for $22 in Moscow at BookPeople, Moscow Food Co-op and the Prichard Gallery and in Uniontown at Artisans at the Dahman Barn. BookPeople will host a signing event 10 a.m. to noon Saturday, and Artisans at the barn staff will hold a plum preparation workshop Nov. 3-5 that will cover cooking, baking and preserving. More information is available at www.artisanbarn.org.
In addition, Leffingwell will be selling already-picked plums from 11 a.m. to 4 p.m. Saturday and Sunday at her home, 835 N. Mountain View Rd, Moscow. Proceeds will benefit the newly-forming local chapter of Food Not Bombs.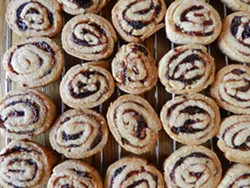 Palouse Prune Plum Pinwheels
Start to finish: 5+ hours (45 minutes active time)
Servings: 60 cookies
½ cup butter
2/3 cup sugar
1 egg
1 teaspoon vanilla extract
1 packed teaspoon fresh lemon zest
1 cup all-purpose flour
1 cup whole-wheat flour
¼ teaspoon baking soda
¼ teaspoon salt
Filling:
2 cups pitted, dried plums
1 cup boiling water
½ cup sugar
Place dried plums in medium saucepan and pour 1 cup boiling water over to allow the plums to plump for 20 minutes or more. With a slotted spoon, lift out the plums and chop them finely. Put back into saucepan, stir in sugar, and cook over very low heat for 15 or 20 minutes, stirring occasionally, until liquid is fully absorbed and everything is evenly soft and mushy. Remove from heat. Allow to cool.
In a medium bowl, cream butter with sugar. Mix in egg, vanilla and lemon zest. In separate bowl, combine the flours, baking soda and salt. Add the dry ingredients to the creamed mixture and mix well.
Divide dough in half and form each half into a flattened ball. Roll the first ball into a 12-inch by 9-inch rectangle on floured waxed paper. Use a ruler to check; if necessary, trim and fill the dough to straighten sides. Spread half the filling evenly over the dough, leaving a ½-inch margin on the long sides. Using your fingers, start on the long edge and roll dough up tightly, making a 12-inch roll. Wrap the waxed paper sheet around the roll and seal the ends with twist ties or rubber bands. Repeat to make a second roll. Refrigerate rolls 4 hours or overnight.
Preheat oven to 375 F. Unwrap one roll and slice into ¼- to 3/8-inch rounds. Place on greased cookie sheet, leaving ¾ inches between pieces. Bake on middle rack in oven 8 to 10 minutes until edges are golden. Remove from baking sheets and place on cooling rack.
-- Recipe by Jeanne Leffingwell, adapted from a favorite date pinwheel recipe and winner of the Idaho Wheat Commission prize at the Latah County Fair.