BY MARVIN LEE
Travis Henderson was born in Cleveland and moved to the Lewiston-Clarkston Valley in 1983. This week, he is bringing his Portland, Ore.-based band Toyboat Toyboat Toyboat to the Quad Cites to perform a pair of sweet gigs.
His band is quite the array of comparisons. Here are a few: "Zappa meets the Beastie Boys." "Sun Ra meets Devo." "Miles Davis meets Fugazi." "Afrobeat meets Melvins."
Before I saw these comparisons, I had one of my own worked out for describing this unique group: "Early Mr. Bungle shakes hands with Ian MacKaye of Minor Threat and Fugazi and dances the funky-chicken with the Pop Group."
Well, enough of this goofiness. Let's just get right down to the interview with Henderson and chat about his past and present endeavors in the music world.
Marvin Lee: What had or made you realize that music is the bee's knees and what brought you to the trumpet?
Travis Henderson: It was probably when I saw Fishbone in Moscow, Idaho, in '88. I was way into music before then but I think that is the show that blew my mind and that's when I decided I wanted to play music. I came to the trumpet because I don't have a lot of coordination in my fingers to play guitar. I basically thought the trumpet would be easier to play. I mean, it has three keys, so how hard can it be to play? It was only after years of playing the trumpet that I realized I made a huge mistake. The trumpet is actually ridiculously hard to play. I also wanted to play an instrument that set me apart from other people.
ML: Do you mind sharing about the first band you ever played in?
TH: The first band I ever played in was Lydian Mesa back in high school. The band consisted of Rob Weston, Ryan Gibler (Seven Devils), Ted Paradise, Matt Riggs, and I. We played a talent show at (Lewiston High School). That was only the second time I played in front of people. I think there was around 300 to 400 people there.
ML: You used to play in a band called Digital Knife. Why did that project break up and how did Toyboat Toyboat Toyboat come about?
TH: Digital Knife had a pretty good run. We were together for five years and within those five years four babies were born. It made it a little difficult for the band. Three of the members didn't want to do Digital Knife anymore and broke away from the band to form their own band. I was pretty bummed. I was kind of adrift for a while. Toyboat Toyboat Toyboat started with our drummer, Mehmet Vurkac, inviting me to play music with him in the vein of John Zorn. Super crazy, super abstract stuff. I brought the other people to the band and we started playing together. Toyboat Toyboat Toyboat officially started making music together in 2008.
ML: What influences do Toyboat Toyboat Toyboat have and what kind of sound are you guys trying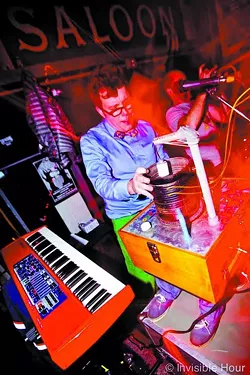 to achieve?
TH: Well, to be different and weird but totally listenable. We all bring different influences to the table. We feel too many people that play in bands like the same thing. Bands usually go with one man's vision and/or have the same vision. The four of us are so distinctively different with what we like musically and that brings ... flavors and blends to the music. Personally I am influenced by Fugazi and John Zorn. Also jazz musicians like Eddie Harris and Miles Davis.
ML: There is a gentleman in Toyboat Toyboat Toyboat named Danny Norton who plays a very interesting instrument. Do you mind shedding some light on this instrument for us?
TH: Yeah sure. It's called a Quintron Hand buddy. It's a hand-built light-wave Theremin and oscillating synthesizer. It's basically made out of weird spare parts that were bought at RadioShack. It's an interesting configuration. There is a light bulb hanging down. There are all these colorful switches. It's basically an old-school keyboard that's triggered with switches, knobs and dials. There is the Theremin part of it where when he disrupts the light-wave from the lightbulb that makes the different sounds. I think at this point there are only 50 to 60 of them in existence. They are made by Quintron in a shop in New Orleans.
ML: Which animals do you like the most: Horses or pigs?
TH: Wow! That's tough! I guess I pick … Oh wow! That's really tough. I guess I pick pigs because I hear they are like dogs. But again, that's a tough question because my wife loves animals and gets on my case because I eat pork. She really hates the smell of bacon. Every time I show her a picture or a video of a pig being cute she immediately asks me how I eat them.
ML: I see you are playing a show at Hogan's Saturday with local rockers Nuclear Waterheater. Do you have any other shows in the area?
TH: Yeah, we are playing a show the night before at the Pizza Pit in Moscow with two bands from Seattle.
ML: Do you have any advice for someone wanting to get into playing music?
TH: You have to decide how much you love playing an instrument. You need to decide if you're going to take it seriously or if you're just going to play for a hobby. If you are going to take it seriously, you have to play every day whether it's for five minutes or five hours. Don't just play two or three times out of the week but every single day. It will pay off in the long run.
---
Everyone in the valley should flood Hogan's on Saturday to see Toyboat Toyboat Toyboat. If you're unsure of them, check out their YouTube video for the song "The Less We Wear." It's a sweet danceable little number. Viva La Weird Music, y'all!
if you go
WHAT: Toyboat, Toyboat, Toyboat
WHEN: 8 p.m. Friday at Pizza Pit, 334 N. Jackson St., Moscow. Cost: $3. 10 p.m. Saturday at Hogan's, 906 Sixth St., Clarkston. Cost: $5.
---
Lee is a musician and aspiring poet who resides in Lewiston. He can be contacted at marvin.lee@live.com.