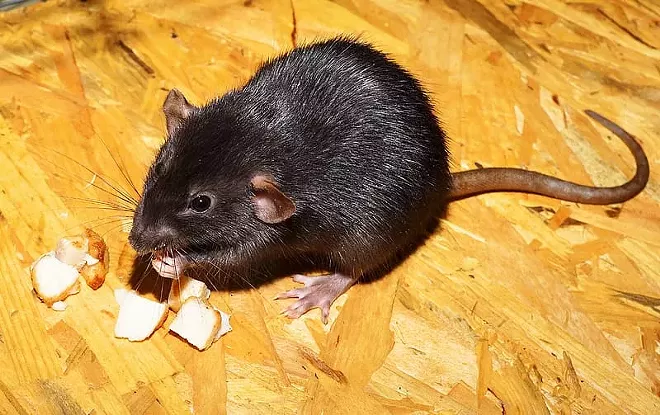 In 2020, we've heard more than enough about the divisions between Americans but, now that the holidays are here, it's time to put aside our differences and come together in the spirit of humanity. One thing we can all agree on is that rats are filthy, disgusting creatures that we do not want in our homes.
Inland 360 asked sporadic columnist Advice Rat for tips on celebrating Thanksgiving during a pandemic. We lured a rat into the office last January with a moldy cheese puff and asked him (or her, not sure, no one wants to check) to write an advice column for us in 2020, the year of the rat in Chinese Astrology. Little did we know a pandemic was coming and that we had found the ideal columnist for a year shaped by fear of disease and pestilence. Readers who didn't trust science could trust their gut instinct about rats.
The predicted winter surge in COVID-19 cases has arrived and, when we finally found him in a pile of shredded newspapers from 1955, Advice Rat had plenty to say.
Advice Rat, the pandemic has dominated news headlines all year. People are afraid and, at the same time, sick and tired of hearing about it. What advice do you have for them?
Humans, we've gone through a lot together in the course of 4.2 billion years of evolution and we'll get through the COVID-19 pandemic, together. Remember how, back in 430 B.C., people were attacked by violent heats in the head, fetid breath and bloody mouths in an epidemic that lasted five years? No? Well, surely you recall the Black Plague, the rats' failed attempt to take over Europe in 1346 with infected fleas that killed half the human population. That lasted eight years. According to the latest news headlines, you've got vaccines on the way and it's only been nine months. Sounds like you need to change your perspective.
Health officials recommend that people celebrate the holidays alone this year, without extended family or friends from outside their immediate household. Some people are refusing to accept this advice. Thoughts?
As a rat, I respect the devil-may-care attitude. Life is short and you want to eat everything you can. When your lifespan is only one year, you don't have time to take life too seriously and you live by the motto, "carpe diem." Of course, humans have a much longer life span, which means the possibility of enjoying many Thanksgivings to come, if you survive this one. Taking this into consideration, you'd think people would do things differently for one year, but humans are creatures of habit and routine. They aren't all as adaptable as rats.
One way people are being encouraged to celebrate the holidays is to meet online instead of in person. For example, a family would gather to eat and grandma and grandpa would join in on a laptop screen. People are complaining about how this just isn't the same. What do you think?
Humans often look for the negative instead of the opportunity in a situation because, again, they're not as adaptable as rats. People, here are some pros: This year there will be no need to clean your house for visitors. If you're on Zoom, you could choose a different background; instead of your overburdened china hutch filled with dusty knickknacks and junk mail, people could look at the northern lights or a peaceful meadow scene. You won't be washing your hands until they bleed because of fear of contagion from outsiders. Uncomfortable conversations about who voted for who in the election can be easily averted with the mute button.
See, things aren't so bad when you look at them from a rat's perspective.