Cupid's arrow strikes in unpredictable ways. We asked readers to share stories about how they met the love of their life. Here are some of the heartwarming stories we received. Some were edited for length.
A note to break the ice
I actually fell in love with my late husband before I ever met him. He wrote for the local newspaper and I was drawn to his fiery editorial's which were cogent and humane and stated so often what I was already thinking. But it was his funny, charming, sometimes touching columns that really captured me. I assumed he was married; he sounded married. He wrote fondly about his kids, about gardening and cooking — very domestic.
"Why are the good ones always taken?" I thought.
Then, one day he wrote a column in which he asked why it was that only brides got to register at The Bon when it was really divorced people who needed a Cuisinart. Divorced people? Now that got my attention. I started asking around at the college where I worked: "Is Bill Hall single?" Turns out, he was. I decided I was going to meet him. But how?
On Friday evenings, after work, a group of us from the college would go out for drinks at the local watering hole, Janni-Annies. One night, a colleague leaned over and said to me, "Hey, Sharon, there's your hero." And there he was, surrounded by friends from the Lewiston Tribune and fans. I caught his eye and smiled. He looked away.
I was startled. Not the reaction I was expecting. I was 45 but looked pretty good back then and had no trouble attracting male attention. In fact, I got so weary of having men who were too young ask me out, that I started asking, "What's the earliest war you can remember?" If they said, "Vietnam," I politely declined. My kids could remember Vietnam.
For the next few Friday nights, it was the same thing. I'd catch his eye and smile. He'd turn away. I was mystified. I asked a friend of mine, a gay professor, "Jerry, do you suppose Bill Hall is gay?" He rolled his eyes and laughed. "Not hardly," he said. Bill didn't seem to have a girlfriend. So what was the problem?
I decided I had to be proactive, so I wrote him a mash note. I don't know why I didn't just go up and start talking to him. Fear of rejection, I suppose. In the note I said I really loved his writing and wanted to meet him. I couldn't bring myself to sign it.
That did the trick. The next Friday night, Bill walked into the bar with my mash note sticking prominently out of his back pocket. He looked around until he saw me; I could feel myself blushing. He headed for the table where I was sitting with my college friend and said, "Hey, Jerry, why don't you introduce me to your friend. Jerry did and then tactfully found somewhere else to be.
We talked for a few minutes; then, pulling the note from his pocket, he said, "Recognize this?" I laughed and admitted that I did. He smiled rather sadly and said, "I imagine you think I have been ignoring you. Quite the opposite. It's just that I think you should know I have a policy against going out with anyone under 30." My heart leapt.
"Well," I said, "I think you should know, I have a policy against going out with anyone who can't remember World War II."
Turns out he was seven when the war ended; I was six. We had 35 wonderful years together. He passed away last spring.
-- Sharon Taylor Hall, Lewiston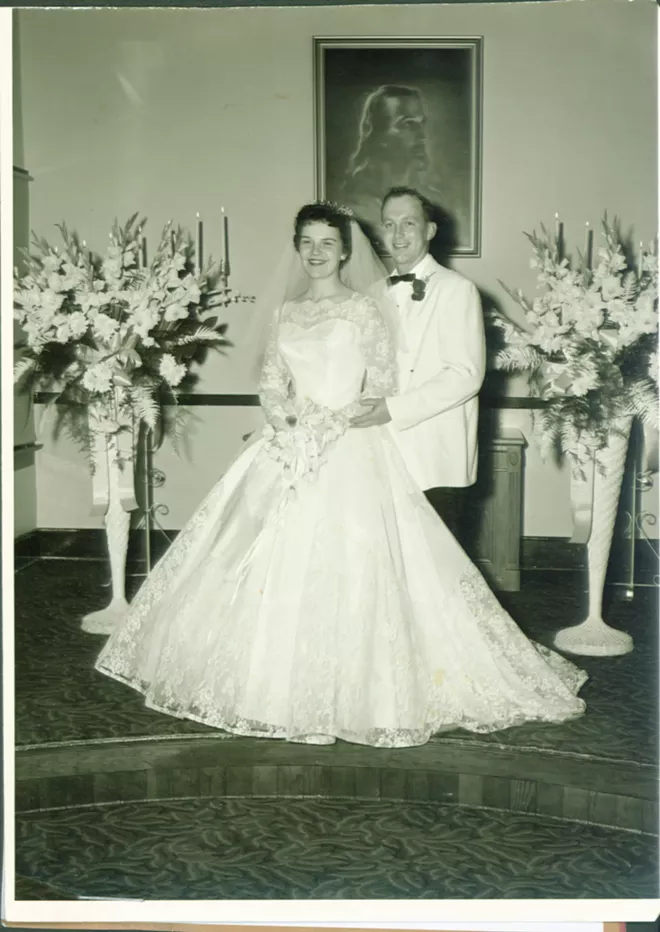 Singing the same tune
Our love story began in 1959. I met my future husband when he was the soloist and I was the organist at a mutual friend's wedding.
He practiced a lot that summer! And on Feb. 7, 1960, we had a Valentine wedding.
We had 25½ wonderful years; he passed on unexpectedly 34 years ago. A reminder of our love remains on our tombstone, which reads: And the greatest of these is love.
A bittersweet feeling, but so lucky we were to have those years.
-- Carol Stueckle, Pullman
Found him on the side of a road
The Hubs and I met 38 years ago in New Zealand. I was hitchhiking, and he picked me up. I was with an American friend. He was house sitting for a friend's parents. He invited us over for dinner. Soon after, I called my parents and said that I was bringing him home to meet the family. It worked out.
-- Jeanie and Mark Stanton, Clarkston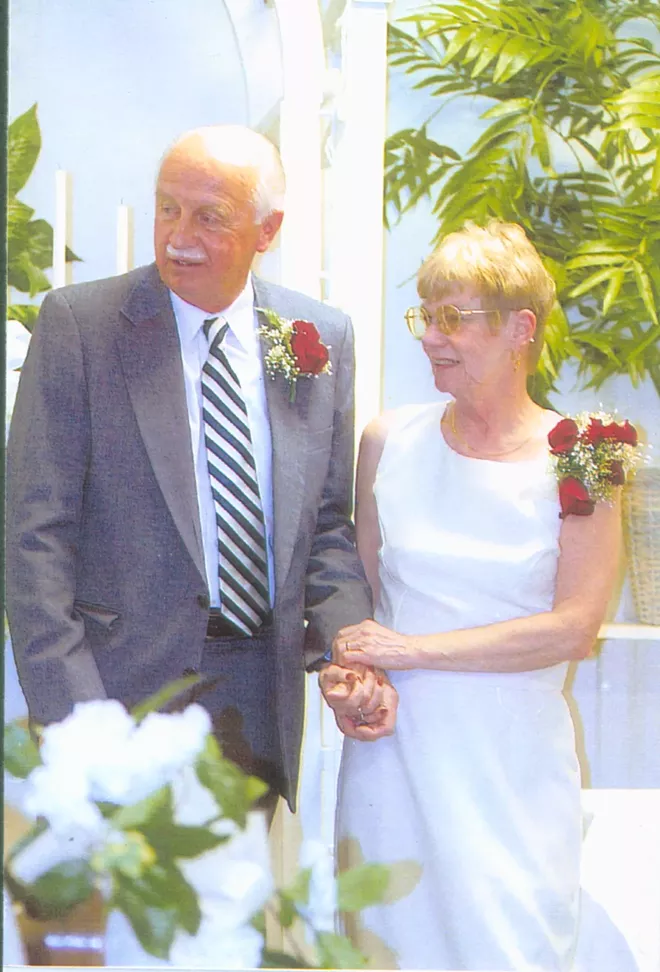 United by the newspaper
It was winter of 2001; I was living and working in Boise. My work involved coming up to Lewiston and the surrounding five counties on a regular basis to keep abreast of business and commerce-related activities. It was very helpful to also subscribe to the local newspapers of this territory. I was a widower at that time and, as it happened, the Friday editions of those Lewiston Tribunes carried a precursor (paper version) of what today is known as "computer dating." One of those Friday issues had a very tiny personal ad that seemed like it had possibilities, she did NOT WANT any COUCH POTATOES. I figured I had a chance, but, I had to extend her age range by quite a bit.
She responded, favorably! We met for dinner at the University Inn, Moscow (she worked at WSU). When we discovered, together, that each of our previous spouses had died of lung cancer (from smoking 40 years) it turned a casual, pleasant dinner into a very bonding episode. We "courted" for a year. She walked me on every street in downtown Lewiston (at least 10 times).
She had been a widow for nearly 10 years and had taken up fairly serious running as a member of the local running club, the Seaport Striders, as therapy for her loss. She has run Spokane's Bloomsday for 10 years, after turning 50. I do not "run" but I still ski, so I don't feel like a couch potato!
-- Keith R. and Mary Bamberry Kopischke, Clarkston
Couldn't wait another day
1956: I, Judith Campbell, super star, upon turning 16 -- the legal age of consent in Missouri at the time -- boarded a Greyhound bus headed for Long Beach, Calif. It was my destiny to become a female Elvis. One of my music teachers drove his best students from Joplin to Springfield to perform on live TV. So, I was singing on TV at a time when I didn't know anyone who had a TV. Boy, was I something! That bus was taking me to certain fame. I was so in love with me, there was no room for anyone else in my heart.
While waiting for my "big break," I worked in a cafe where a frequent customer, a sailor from Idaho, caught my attention. Soon he was coming in every day to talk during my break times. Before long, we were holding hands across the back booth, and by the time I let him drive me home, my interest in "show biz" was all but gone. Stanford Lougee was dominating my thoughts, and my heart was no longer my own, but his.
We married six months after having met. By then I was 17, and my sailor was 21. We set our wedding date for March 8, and on the 7th we went out for our last date as single people.
When Stan drove me home that night, we just sat in the car holding on to each other, and it became obvious we couldn't say goodnight. I didn't know if it was the anticipation of marriage or what, but I started to cry. Then Stan remembered that he had put our license in the glove compartment. So, at 11 p.m. we woke up our witnesses and the four of us drove to their preacher's house. Then Stan pulled into an alley, got out of the car and ran off, leaving us bewildered. Just as patience was getting thin he came back and breathlessly handed me a bouquet of sweet peas he remembered seeing a few days earlier along that alley.
Now for a minister. I thought it would be romantic to wake up a preacher and he could marry us in his robe and pajamas, like the movies of the '40s. Stan didn't like that idea but went along just for me. So, we woke a good-natured preacher. I was wearing a black dress. Our friends called it a jinx, but after 42 years, no way.
-- Stan and Judith Lougee, Lewiston