Paintings by a Hamilton, Mont., artist who works in diverse media make up Moscow Contemporary's fourth exhibit, starting this weekend.


"Pamela Caughey, Unforeseen" opens with a reception with the artist from 5-7 p.m. Oct. 7 at the gallery, 414 S. Main St., in Moscow. Caughey will give a gallery talk at 11 a.m. Oct. 8, followed by a Zoom talk at 3 p.m., for which links are available at moscowcontemporary.org.


She creates geometric abstract paintings across separate and overlapping media, including encaustic, acrylics, oil, mixed media and collage, according to a Moscow Contemporary news release. The exhibit, which includes a dozen large multipanel pieces and a range of smaller works, runs through December.


Caughey developed an online teaching platform during the pandemic, and to engage her students she invited them to send her color swatches from their studios, which she used to create a small piece. This culminated in the group project "Snail Mail" comprised of 150 individual panels.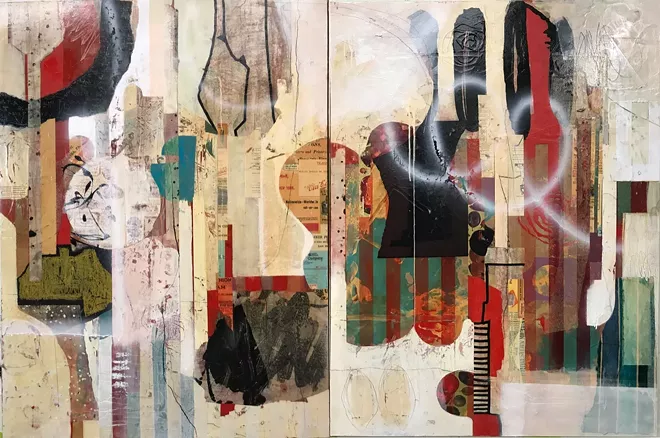 Caughey, who grew up in Wisconsin, has a bachelor's degree in biochemistry from the University of Wisconsin-Madison and a Master of Fine Arts in painting from the University of Montana. Her art is in the permanent collection of several museums and public buildings nationally and internationally, and her work appears in the newly published book by Rebecca Crowell and Jerry McLaughlin, "Cold Wax Medium: Techniques, Concepts, Conversations." After teaching at the University of Montana Bitterroot College at Hamilton, Mont., she now is a full-time studio artist and teaches workshops from her studio, throughout the country and abroad.