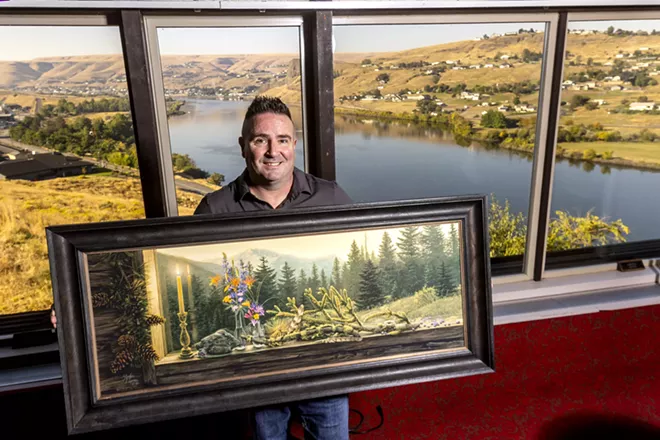 You can tell a person of a certain age is from the Lewiston-Clarkston Valley if they're familiar with Stephen Lyman's work.
That's the conclusion of collector Ryan Fiske, who said newcomers aren't the only ones who don't know Lyman: Younger generations, he said, are increasingly unaware of the late artist, his work and his Lewiston roots.


That, in part, drove Fiske to organize a series of shows, starting next week and slated to run over the next four years, showcasing Lyman's vivid paintings of the natural world.
"If you want it to happen, you have to execute it yourself," he said he realized, after having the thought a show would benefit the community.


"Rediscovered," Oct. 12-16 at the Lewiston Elks Lodge, puts 60 limited-edition prints of Lyman's first published paintings on display, with images including wildlife, landscapes, cozy winter cabins and Lyman's signature campfires, glowing with the firelight he captured so uncannily.


"I would say that there's something for everybody in there," Fiske said. "I really can't imagine that there wouldn't be something there for anybody to enjoy. Everybody will fall in love with at least one of the pieces there."


Downtown Artwalk attendees can get a sneak peek this Friday and Saturday (the story is on Page 7) when one of the pieces is displayed in front of the Diamond Shop – which was the nextdoor neighbor of the former Lyman Gallery.


Lyman, an outdoorsman who "specialized in painting the most elusive moments in nature," found his love for the outdoors hiking in the Snake River country with his family, according to an introduction Fiske wrote for the show. He died in 1996, when he fell from a rocky ledge during his 41st visit to Yosemite National Park, where he was seeking inspiration for his paintings, according to a Spokesman-Review story at the time.


Fiske and his wife, Jennie, had purchased Lyman prints over the years, and they added dozens more to acquire the pieces necessary for the show.


Fiske's introduction to the artist came after meeting Jennie at the University of Idaho. He learned of Lyman's tragic death during a dinnertime conversation with her parents, Wayne and Leanne Grubb, who grew up going to school and church with Lyman.



Fast forward a quarter century, and Wayne Grubb has been busy helping Fiske prepare for the exhibit, framing artwork and building display stands.


The show has only come together, Fiske said, with his father-in-law's assistance and significant contributions from Debbie Zenner at DZ Designs in Lewiston and Savonnah Fouts at the recently closed Wenaha Gallery in Dayton, Wash.


"The framing becomes an art in itself," he said.


The event will serve as a bit of a family reunion for the Lymans as well.


Fiske contacted Shauna Lyman, Stephen's sister, who will be at the exhibit and who put him in contact with his widow, Andrea.


"She's helped guide me a little bit in this process," he said, of Andrea Lyman, noting she and her sons will be attending as well.


Andrea will help with tours of the exhibit, he said, and she'll be on hand Saturday for a Q&A.


A donation from the Elks Lodge allows area schools to bring students to see the show Oct. 12-14 at no charge. Fiske said a few classes have signed up, but he hopes to see more take advantage of the opportunity.


Entry to the show otherwise is $12.50 for adults and $10 for seniors.


The "Rediscovering" exhibit is the first in a series Fiske is planning:

"Further," 2023: A presentation of the 60 Lyman limited-edition prints from the first show, 1983-96, and an additional 17 published from 1996-2001.
"Remastered," 2024: A presentation of more than 40 giclee canvas limited-edition prints published from 1998-2016.
"Companions," 2025: A presentation of all Lyman limited-edition prints and canvases.
"Body & Spirit," 2026: A presentation of all Lyman limited-edition prints and canvases with storyboards and a few original paintings, organized in chronological order to demonstrate his growth as an artist.
Once people see this year's show – both Lyman admirers and those who will be learning about his work for the first time – Fiske said he hopes he'll have hooked some new fans. It's bound to happen when they spend time with his art, he said.


"Somebody's going to fall in love."


Stone (she/her) can be reached at mstone@lmtribune.com.
———
IF YOU GO


Stephen Lyman "Rediscovered"
What: Limited-edition prints of Lyman's first 60 works.

When: 9 a.m.-8 p.m. Oct. 12-13; 9 a.m.-10 p.m. Oct. 14-15; 9 a.m.-5 p.m. Oct. 16.
Where: Elks Lodge No. 896, 3444 Country Club Drive, Lewiston.
Cost: $12.50 adults, $10 seniors. School groups can arrange to visit free Oct. 12-14.

Refreshments: No-host bar after 5 p.m.

Of note: Lyman's widow, Andrea, will help with tours of the exhibit, and will be on hand Saturday for a Q&A. Additional prints of some of the works on display will be available for purchase at the show.