by Dylan Brown
"Big Wheels and Others" ARTIST: Cass McCombs RATING: 4½ out of five LISTEN:
The critical fervor around Cass McCombs' 2011 album "Wit's End" drew me to the vagabond folk artist. It was part of a deluge of music, including a second album, "Catacombs," released in 2011.
But aside from the mournful "County Line," the music failed to stick in my memory. McCombs showed off a depraved-yet-firm grip on what I like to refer to as "good country" — country without over-the-top twang and sickly sweet heartache.
Two years later, though, "Big Wheel and Others," a two-disc, 20-song monstrosity, stuck me with its first dart.
In one of three excerpts from a 1969-documentary called "Sean," a cute-then-terrifying 4-year-old from Haight-Ashbury tells the interviewer, who sounds eerily like McCombs, that he smokes grass and hates cops. Though not the next generation of McCombs as I first thought, Sean sets the tone for the rest of the off-kilter album.
Fitting for a man who spent most of his adult life a nomad, McCombs' carnie-sensibility wanders through various genres to accent his acoustic guitar.
"I believe in littering/Waste should not be hidden," as McCombs says on "Home on the Range."
A saxophone is used both as an instrument of groove on "It Means A Lot To Know You Care" and then discomfort on "Satan is My Toy." A grungy guitar and "the taste of diesel" surfaces on "Big Wheel," while a harmonica buzzes on the bluesy "Unearthed," harkening back to McCombs' folk predecessors.
McCombs maintains the lullaby lilt of 2011's albums sporadically on 2013's. These ethereal songs are reminiscent of a music box that badly needs to be cranked, but refuses to quit — just before the last note can trail off, the next one plucks up. The lullabies are still McCombs', meaning strange and dark. Too dark for any kid not named Sean.
He waters his sing-song 1960s roots on the single "Brighter!" A beautiful rendition of the same song by "Easy Rider" actress Karen Black, who died in August, appears on disc two. McCombs dedicated the album to the Oscar-nominated actor.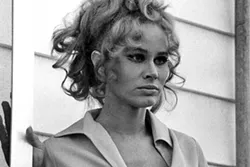 While he does well using classic country lyrics — "sooner cheat death than fool love" — and a steel-guitar throughout "Big Wheel and Others," McCombs is first and foremost a folk man. Like Bob Dylan, he has a strange logic and a propensity for bizarre-yet-grand metaphors, like the one he sings on "Unearthed," about an apparently very time-consuming relationship: "I moved 75,000 tons of earth with my teeth."
Brown may be contacted at dbrown@lmtribune.com or (208) 848-2278. Follow him on Twitter @DylanBrown26