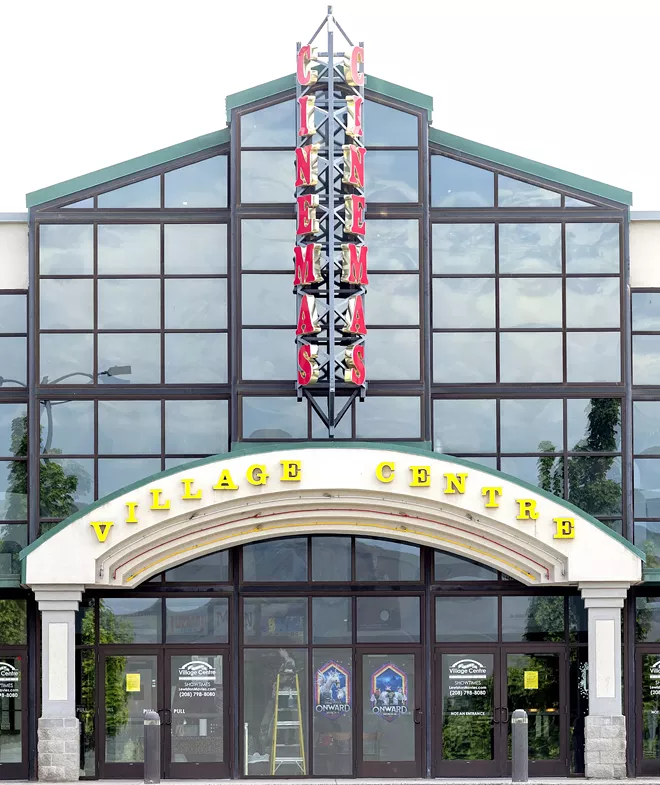 By Kathy Hedberg
for Inland 360
Regional movie theater operators are anticipating reopening their venues in June and are making plans to create a safe environment.
Michelle Dougherty, regional manager for Village Centre Cinemas in Lewiston, Moscow and Pullman said she and her staff continue to work out details, but when the fourth phase of Idaho Gov. Brad Little's rebound plan begins June 13 "we'll only be opening with six of our largest auditoriums, not all 12," at the Idaho locations.
June 13 is when groups of as many as 50 people can begin to gather, according to Gov. Little's phase-in plan.
"They will be at less than 50 percent capacity, and so the plan for that is stadium seating, only every other row blocked off, and then the (seating arrangement) will be three seats apart from each other."
Dougherty said exceptions would be made for family and friend groups; they would be allowed to sit together, although if there is a large enough crowd, no one else would be able to occupy the same row.
Theater employees will wear masks and gloves, but it has yet to be decided whether customers would be required to wear them, Dougherty said.
Plexiglass barriers are being installed in the concessions area, and hand sanitizers and hand wipes will be available. They have not yet nailed down plans for preventing people from congregating in front of the concession stand. While specific protocols for the self-buttering popcorn and beverage stations have not been decided, it has been determined that a staff member will be stationed in the area to sanitize the equipment after each use.
During the shutdown, the theater created a curbside pickup option for concessions that has been popular with customers, Dougherty said.
"We are still so far away from being able to open," she said. "We've been putting a ton of thought into it, and everything is changing so drastically. But at the forefront for us, and always will be, is the safety and health of our staff and patrons."
At the Kenworthy Performing Arts Centre in Moscow, hopes are high that the theater will be able to reopen June 13.
"We're keeping our eye and ear on what the governor is advising," said Christine Gilmore, the center's director. "On the forethought of our mind is the safety of our staff and customers. At this point, no firm policies have been made; they're still developing. But they will include masks for our staff and plexiglass at the concession counter to maintain safety. And we're adding additional sanitization protocols."
Gilmore noted that some theaters are reconfiguring their auditorium layouts to keep greater distance between the rows of seats. The Kenworthy staff is still developing policies, but she is confident that the theater will not open until it is safe to do so.
As far as what movies will be available when theaters reopen, there may be some lag time for the industry to catch up, but "most of them are planning to open soon to start developing movies, so the studios are helping to provide access to older releases," Gilmore said. "I actually think the studios are going to be very happy to provide (classic and older releases) to movie theaters. They want people to see movies the way they were designed to be seen on the big screen."
The first new movie scheduled by studios for release this summer is "Tenet," a time-travel action thriller due out July 17. Before that, Village Centre Cinemas is planning a "Flashback Cinema" series, according to its website.
Chris Wagner, owner of the Blue Fox Theater and Sunset Auto Vue drive-in theater in Grangeville and the Rex Theater in Orofino, is also assembling public safety plans for when his businesses can open.
It's possible, Wagner said, that the drive-in, 1 mile east of Grangeville along the Grangeville-Salmon Road, could open as early as June 1. He is in the process of replacing the drive-in's projection screen which blew down during a windstorm in January. He said social distancing at the drive-in won't be the problem it is in sit-down theaters.
As far as the Blue Fox and the Rex, "we are going to ask people to social distance the best they can. We will open the balcony that we don't typically open up, so that people have a little more room. That will be largely up to the customers themselves to find a comfortable space.
"If (customers) come in together and sit together, I'm not going to tell people not to," Wagner said. "I'm just going to ask people to please keep some social distancing and let them get that done themselves. I'm not going to monitor them."
He plans to open the concession stands but hasn't made final decisions on how to monitor potential lineups of people.
"I don't think that will be an issue," he said.
Over the winter, Wagner and his crew replaced flooring in both the Grangeville and Orofino theaters and cleaned the buildings.
Once the theaters are open, he said, "there will be an onslaught of movies, I think. The fact is, they have a lot of product on the shelves already, so there will be lots and lots of movies."
As reopening plans proceed, information will be updated on the theaters' websites and Facebook pages.