LEWISTON -- As a lifelong East Coaster, Vance Skidmore is used to a terrain of cement sidewalks and skyscrapers.
A smartphone tethers the IBM sales executive to daily life. His vacations revolved around hotels until three years ago, when Skidmore, 58, left his comfort zone. He and his wife signed up for a six day rafting trip on Idaho's Middle Fork of the Salmon River. The river flows through the largest roadless area left in the lower 48 states.
They'd never been rafting, or even camping, but the Idaho River Adventures trip featured their favorite band, the Infamous Stringdusters, who they'd seen more than 100 times in concert. Skidmore saw it as a chance to bond with the band in an intimate setting.
"Life changing," Skidmore said about the experience. "When you start you're a bunch of strangers. When you're done, you're family."
Devoted music fans follow their favorite bands around the country. Now entrepreneurial river guides are blending the music and outdoor adventure scenes to create a new kind of vacation experience. "The first trick is finding bands that understand what they're getting into."
Dustin Aherin, the owner of Idaho River Adventures, started his "Pickin' on the Middle Fork" music trips five years ago as a way to reach social media circles that might not be familiar with the river rafting. Aherin began guiding in 1996 and over the years noticed Western outfitters branching into music with symphony or jazz focused river trips. Tapping into the Americana roots genre, he booked his first band, the Infamous Stringdusters, in 2013. Since then he's worked to bring about a dozen different groups and their fans to the remote river.
"People will sign up based on their love of musicians," said Aherin, 43, who lives part of the year in Lewiston and part in Salmon, Idaho. "Some of them have never spent the night outside." "The first trick is finding bands that understand what they're getting into," Aherin said.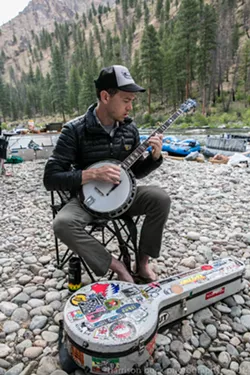 The all-inclusive river trips are six days and five nights through wilderness. While all equipment is provided and the trip is fully catered with indulgent meals, there is no electricity, internet or cell service. Aherin is a leave-no-trace outfitter, which means that everything packed in gets packed out, including human waste.
"Some people are not comfortable with that," Aherin said.
There's also risk. He warns people the wilderness is not a controlled environment. Aherin had a custom set of dry bags made for carrying instruments on the wild river. He pays an extra licensed guide to row the boat carrying them. There are usually guitars, banjos, and mandolins but he's also transported a stand-up bass and a partial drum kit.
"Knowing the trip would end if those instruments sunk, I think it's money well spent," he said.
"It's a little bit more laid back than a concert."
Music on the trip is unstructured. It's up to the band to decide when to play. Often it starts after Aherin's crew has fed the travelers dinner. As the sun sets, someone may begin to strum a guitar. Soon the whole band is playing. Hours later it's time for bed.
"It's a little bit more laid back than a concert," said Jane Parker, a Pullman retiree who was lured into taking a 2016 trip with her partner Dan because it featured Frank Solivan and Dirty Kitchen.
The couple had followed group all over the West - from Portland to Denver. They'd considered taking a rafting trip in the past and the band sealed their decision.
"It was very, very fun and relaxing," Parker said. "The sheer joy of playing music together was very obvious. I don't think you get quite that experience when you see people play music at a concert."
Because of a shared interest in music it was easy to get to know other people on the trip, Parker said. Some brought instruments and joined in the jam sessions.
"People who sign up have more interests besides the rafting part," she said.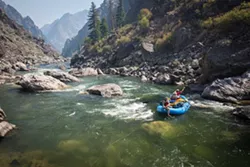 "I felt so frickin' alive."
Bringing bands in was initially a risk because Aherin was giving away seats that sell for $2,250 a person but it's paid off, he said. The band trips have increased sales of his general raft trips. At concerts he'll sometimes see "Pickin' on the Middle Fork" T-shirts in the crowd.
Most rewarding is exposing new people to the outdoor experiences public lands offer, he said.
For people like Skidmore, who'd never been camping, the band "was just the icing on the cake."
Skidmore vividly recalls the sound of thunder rolling down the river canyon, watching an otter mother teach its pups to swim, and the sight of more stars than he'd ever seen in his life.
"I felt so frickin' alive. I felt like, I'm a part of the Earth and I hadn't felt like that in a long time."
2017 trips feature:
The Mother Hips: July 30 – Aug. 4
Hot Buttered Rum: Aug.15-20
Jackie Greene, Jabe Beyer and Scott Padden: Aug. 23-28
Larry Keel and Todd Sheaffer of Railroad Earth: Aug. 31-Sept. 5
Nicki Bluhm along with Scott Law and Ross James' Cosmic Twang: Sept 12-17