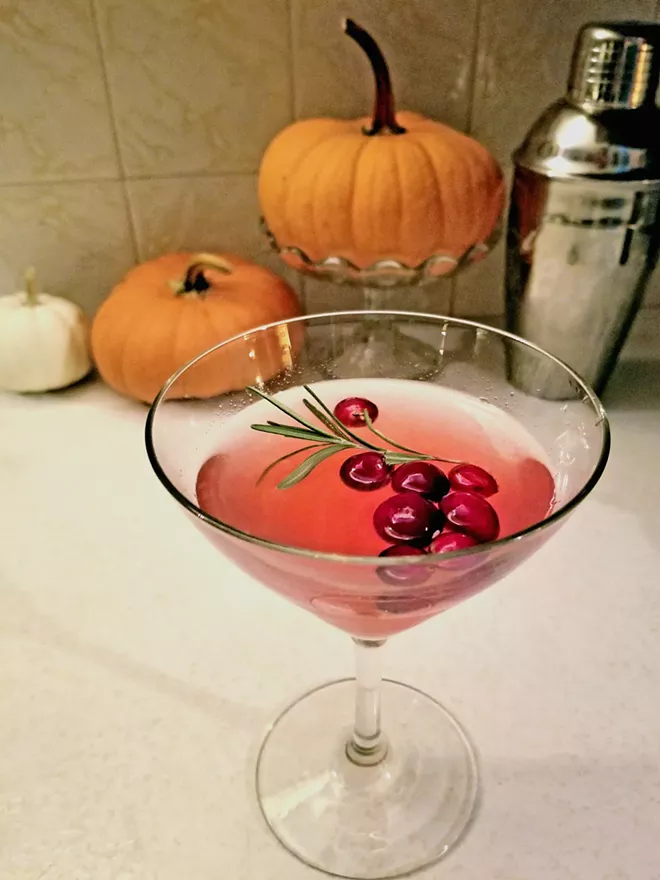 Sometimes the holidays feel tired because we trot out the same recipes, foods and drinks every year. Here's an idea for a cocktail that puts a twist on cranberries, a mainstay on Thanksgiving tables.
Shockingly tart, cranberries are rich in antioxidants and have many health benefits, as long as you don't cancel them out with too much sugar or alcohol.
When preparing to make this festive Cranberry Gimlet, you'll want to read the fine print in the ingredients list on the juice bottle before purchasing. Many cranberry juices are blends of other fruits with just a little cranberry thrown in. For the freshest version, look for unsweetened cranberry juice that is not from concentrate. Tart cranberries are a surprisingly refreshing companion to gin in this drink. Rosemary adds a festive hint of green and a pleasing, outdoorsy scent.
Cranberry Gimlet
2 ounces of good-quality gin 1 ounce unsweetened cranberry juice ½ ounce fresh squeezed lime ½ ounce simple syrup Whole cranberries and a sprig of rosemary for garnish
To make simple syrup, heat equal parts water and sugar in a sauce pan. Stir until sugar is dissolved, remove from heat and let cool. (If using sweetened cranberry juice, skip the simple syrup. You don't want to drown out the tartness of the berry.)
Fill a cocktail shaker (or a glass jar) with ice and add gin, cranberry and lime juice, and simple syrup. Cover and shake until cold, then strain into a glass. Garnish with whole cranberries and a sprig of rosemary.