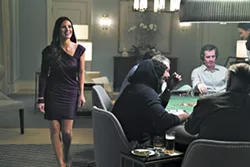 Film review
Kaylee Brewster
"Molly's Game" places an all-in bet on the talent of writer Aaron Sorkin in his debut directing gig, and acting heavy-weights Jessica Chastain and Idris Elba, in a gamble that pulls off a win.
As Molly Bloom (Jessica Chastain) tries to figure out what she wants to do with her life, she stumbles across a high-stakes poker game her boss runs. She figures out how to run the game and starts her own weekly poker night.
However, as the game progresses, things turn sour for Molly and she finds herself in trouble with everyone from the FBI to the mob. She turns to a lawyer, Charlie Jaffey (Idris Elba) to make sure she doesn't go to jail for crimes she didn't commit.
"Molly's Game" expertly explains poker rules and terminology to the audience through understandable and entertaining voice-overs and graphics. In this way, it's easy to keep up with the story, regardless of how full your hand of poker vocabulary is.
However, this is a Sorkin movie (the writer behind TV's Emmy-winning "The West Wing" and the Oscar-winning screenplay for "The Social Network") which means the script is perfection (and also Oscar-nominated). The dialogue snaps back and forth with whiplash speed. There is a long, dramatic monologue where a character makes an impassioned plea. It also contains more than a few subtle jokes to help break the tension.
Chastain and Elba can more than hold their own with the dialogue's demands. They command the script by creating characters you believe would say these things — despite the fact that no one in real life speaks with that much eloquence.
Chastain gives Molly a wide range of attributes. She runs a tight poker game. She's smart; she knows how the game, money and players work together so she can turn a profit. Those who don't play by her rules are out. She's tough, but she's not mean, showing a compassionate with her players. She tries to convince them not to gamble when they get in too deep. For those who do rack up debt, she finds ways for them to pay that don't involve sending a big guy to break their bones.
Molly carries the film through some slow moments. As a sympathetic character that gets in too deep, she is intriguing and watchable.
When it's time to cash in the chips at the end of the film, the well-crafted script and characters pair with great acting make "Molly's Game" a full house.
https://www.youtube.com/watch?v=8K3GVgiOqhg