By Barbara Merchant
For Inland 360
It's a simple process to obtain a medical marijuana card if you live in Washington. All you have to do is get a clinician to evaluate you to determine whether you meet the medical criteria. If you do, take the authorization the clinician gives you to a marijuana retail store. Pay the store to register your authorization in the state database and issue your Washington Medical Marijuana Recognition card. That's it.
But, no. That's not it.
There are a few hurdles you have to leap over before you become a medical cardholder, and they may cause you to wonder if the effort is worth it.
First Hurdle: Locating a clinician who does screenings
Finding a clinician in Pullman or Clarkston who is willing to write the medical marijuana card authorization is a challenge. It doesn't require a medical doctor. It can be issued by a naturopathic or osteopathic physician, advanced registered nurse practitioner, physician assistant or osteopathic physician assistant. As long as they are licensed to practice in Washington and their medical practice is not limited to providing medical marijuana card authorizations, they can evaluate and authorize. Washington doesn't allow state-licensed clinicians to write authorizations for patients who live in other states, nor does it accept authorizations written by clinicians in other states.
Pullman doesn't appear to have a clinician who will write an authorization. Clarkston has one: Brian Ciezki, a certified nurse practitioner with Snake River Adult Medicine. Ciezki acknowledges he is the only clinician in the area who provides medical marijuana card evaluations as part of his practice.
"The laws written in Washington are clear that there could be others," he said. "However, given the corporate nature of the other providers in the valley and in Pullman, they are likely not able to do so."
Ciezki sees patients by appointment only. They come from all over — Colton, Uniontown, Asotin and Pullman. He gets most referrals by word of mouth, and the number of applicants he sees varies weekly. At his busiest, he'll evaluate eight to 10 medical marijuana card authorization patients in a week.
Medical insurance does not cover a medical marijuana card screening. Ciezki charges $150 for his evaluation.
Second Hurdle: Meeting state guidelines
Patients seeking a medical marijuana card authorization must have what the state considers a "terminal or debilitating medical condition." This can be anything from cancer to intractable pain to post-traumatic stress disorder. Intractable pain is any pain, such as migraines, that is not relieved by the usual medications or treatment. The Washington State Department of Health lists qualifying health conditions on its website (find a list at the end of this story). Ciezki says the two most common he sees are chronic pain and PTSD.
Shelly Rowden, medical marijuana program manager with the Washington State Department of Health, said intractable pain is the leading qualifying condition for adult patients who registered their authorization in the medical marijuana authorization database. Epilepsy or other spasticity disorders were the top qualifying condition for minors (patients younger than 18).
Ciezki asks new patients to bring a copy of their medical records to their screening to help him determine if their condition meets state guidelines. A request for medical records is not uncommon. When Pullman resident Elizabeth Siler, who had a medical marijuana card until recently, went to a Spokane clinic several years ago for her initial card evaluation, she was asked to submit "all my medical records (including images)" to a clinic. Siler waited for more than a month to learn if she had passed that screening. Only then was she permitted to make an appointment for an evaluation by a doctor. Ciezki's approach is to do it all (review, evaluate and treat) in one appointment. "Same day, no drama," he said.
Third Hurdle: Getting the authorization
If the patient meets the state's qualifying guidelines, the clinician will issue a medical marijuana authorization on a tamper-resistant paper form. This is valid for one year for those 18 years and older but only for six months for anyone younger. The state requires that those younger than 18 and their parent/legal guardian register their authorization in the state database and obtain a card, but registration is voluntary for everyone else.
Registration is done at a marijuana retail store that has a medical endorsement. Pullman has one, and Clarkston has three. The state keeps an online list of medically endorsed stores. These stores are required to have certified medical marijuana consultants on staff. The consultants are trained in registering patients in the state database, creating cards and guiding patients to marijuana products that may be beneficial to them.
It's a good idea to call ahead to find out if a store requires an appointment to register and issue a card. Most do. Fees for registering in the database and receiving a card can range from $1 to $5. Since July 2016, when the state began creating them, 40,198 cards were issued from the database, according to Rowden. Not all of them remain active, though.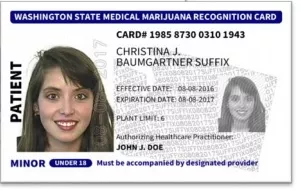 Fourth Hurdle: Making the decision to register or not
There are benefits to registering a medical marijuana authorization. According to Rowden, these include "arrest protection for increased possession and purchasing amounts, sales-tax exemption on purchases, the ability to grow additional plants, the ability to join a cooperative and the ability to purchase immature plants, clones and seeds." Additionally, only a medical cardholder is allowed to buy high-THC products. Matt Plemmons, owner of Greenfield Cannabis in Clarkston, said registered cardholders can buy "three times as much product as a recreational buyer, which benefits patients too ill to make regular shopping trips."
Patients who have a medical marijuana authorization, but don't have a card (and are thus not registered in the database), don't get the sales tax exemption, nor do they receive arrest protection. However, they "may raise the affirmative defense," said Rowden. What that means, said Denis P. Tracy, Whitman County prosecutor, is that "they can be arrested and prosecuted, but they would not be convicted if the patient can affirmatively prove at trial that they were otherwise in full compliance with all other requirements of the law." Tracy added, "In reality, would such a person actually be arrested and prosecuted if they can show the officer that they are complying with every aspect of the statutes? It would be up to the officer's and prosecutor's discretion."
Retail stores with medical endorsements are the only stores allowed by the state to give cardholders an exemption on sales tax for their marijuana purchases, according to the Washington State Department of Revenue. When Pullman recreational marijuana stores were called for this article, most said they would give a discount on products if patients presented their medical marijuana cards.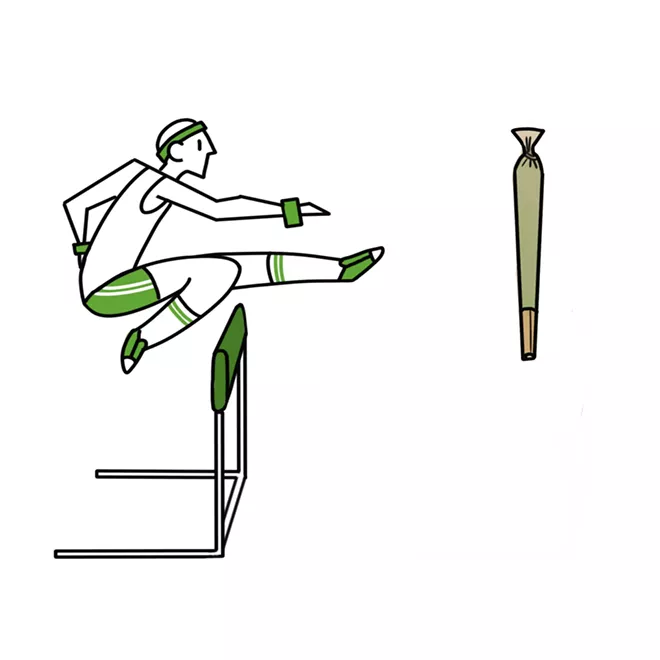 Fifth Hurdle: Growing plants
Both registered medical marijuana cardholders and medical authorization carriers can grow plants. In cases where the authorization doesn't specify a quantity and patients don't register their authorization, the growing limit is four marijuana plants. Patients who register their authorization into the state database and receive a recognition card can grow as many as six plants. A clinician can recommend a maximum of 15 plants, but to grow this many, state law requires patients to register their authorization.
Locating a place that sells marijuana plants or seeds can be a challenge. Pullman and Clarkston stores don't sell either. Patients sometimes hear they can buy seeds online or that they can go to Oregon to buy plants to bring back to Washington. The state considers both practices to be illegal.
Siler, who grew her own cannabis when she was a medical cardholder, said she got her first plant from a store in Spokane, and that it was "practically the last one in Spokane." She found it "almost impossible to buy plants on the east side of this state."
In general, marijuana retail stores in eastern Washington no longer carry marijuana plants. Instead, most stores refer patients to growers, usually those on the west side of the state. Some growers will not sell directly to the public, preferring to not deal with the extra paperwork or the prospective risk to their crops from pathogens or insects brought in inadvertently by clients visiting their warehouse to buy plants.
Pullman has only one grower who will sell plants and seeds to the public. Palouse Country Cannabis, in business for a year and a half, is located outside Pullman city limits. Jesse, who asked that his last name not be used, is the plant manager. He said as far as he knew, they are pretty much the only grower this side of Wenatchee that sells directly to the medical-card-carrying public. He said they get patients from Whitman, Asotin and Garfield counties.
Palouse Country Cannabis sells plants, clones and seeds to medical card carriers; flowers and pre-rolls to retail stores; and bulk cannabis to wholesalers. Their price for an 8- to 10-inch clone is around $12, much less than what some growers on the west side of the state charge. The farm grows 30 different strains but also sells plants that Jesse specially bred, such as Asphalt OG. Jesse, who said he no longer smokes marijuana, bred the variety a few years ago specifically to treat his own pain from when he worked construction and injuries incurred in a car accident. The farm doesn't carry CBD clones.
"There is not much of a market for it," Jesse said. "I've only been asked once in the last year and a half for it." He added that "if CBD works for you, then you are better off getting the extract."
Marijuana farms can't be certified as organic since that is a federal certification, Jesse said, but Palouse Country Cannabis does grow organically and doesn't use harmful chemicals to treat its plants.
"We use spearmint, peppermint or clove oil in water to spray on plants. Anything we put on the plant, it's all edible," Jesse said — the possible exception being insects. "We've just released 6,000 ladybugs, and last week, we released a whole bunch of lacewings."
Palouse Country Cannabis also is willing to take medical card carriers on as interns. These are usually new cardholders who have never grown marijuana.
"They get ahold of us and say, 'I want to learn how to grow,' " Jesse said. The farm takes them under its wing as a community service and teaches them. He estimated it takes about a couple months for interns to see the complete cycle from start to finish. "They won't be master growers in two months," he said, "but they'll see a little bit of everything along the way."
Farm staff have noted a variety of ages in the customers who come to buy plants. "The youngest would be in their late 30s," Jesse said, but "most of them are in their 50s and 60s."
One of their favorite customers was a woman nearly 90 years old who bought 15 plants and told them she planned to grow them in her front yard.
So, is it worth it to get a medical marijuana card? It depends on what you want from it.
While there is an exemption on sales tax, the opportunity to buy a higher-level THC product, possess three times more product than a recreational user or even the legal permission to grow plants, there are "other benefits that are not necessarily relating to regulation," said medical marijuana program manager Rowden. "More of a peace of mind, or confirmation of the need to use marijuana for medical purposes."
Qualifying Conditions for a Medical Marijuana Card
Clinicians consult this list to determine if a patient's health condition meets the state criteria for a medical marijuana card. If so, the clinician issues an authorization, which the patient can take to a marijuana retail store that has a medical endorsement. After presenting the authorization to the certified medical marijuana consultant behind the counter and paying a fee to be registered in the database, the patient will receive a medical marijuana card.




Cancer, human immunodeficiency virus (HIV), multiple sclerosis, seizure disorder (such as epilepsy) or spasticity disorders




Intractable pain




Glaucoma




Crohn's disease




Hepatitis C




Diseases (including anorexia) that result in nausea, vomiting, wasting, appetite loss, cramping, seizures, muscle spasms or spasticity




Chronic renal failure requiring hemodialysis




Post-traumatic stress disorder




Traumatic brain injury



Source: Washington State Department of Health