Sipping champagne cocktails in a "secret" backstage bar surrounded by historic mementos: The future of the Kenworthy Performing Arts Centre looks like a trip back in time.

Doors open at 7 p.m. Saturday, Oct. 1, for the Kenworthy's annual benefit, which serves as the unveiling of the historic theater's newest feature, a speakeasy.


The approximately 700-square-foot area behind the screen — with "just a lot of charm and a lot of really cool historical access" — previously was off limits, Kenworthy Executive Director Colin Mannex said.

But with details like new carpet and cafe tables, it's been reshaped into a functional, flexible space for mingling over drinks or dancing the night away. A canvas curtain adorned with advertisements from supporting businesses dating to the late 1940s provides an appropriately retro backdrop.
The benefit, Backstage with the Band, is a concert and auction featuring music by Golden Boy and Desolation Horse, bands Mannex first heard at Moscow's Rendezvous in the Park local showcase.
"I was just completely blown away," he said, describing them as having "multigenerational appeal."


Booking the bands for the fundraiser seemed like "a great way for us to signal our renewed commitment to live arts," he said, noting dance, theater and music are "really important to be able to feature as we move forward.
"It may not always be a concert venue, but it can be a concert venue," he said.


The Kenworthy opened in 1926 after extensive remodeling of the former Crystal Theatre, which was built on the site in 1908 and later used as a car dealership and garage, according to the National Register of Historic Places.


Today, the theater offers a downtown venue for everything from the recent Moscow Comedy Fest to author Q&As organized by its downtown neighbor BookPeople to, of course, film events, like the Palouse French Film Festival that st
arts Tuesday, Oct. 4.


As robust as the Moscow community has kept it, screening classic weekend films, once the bread and butter of a theater like the Kenworthy, wasn't attracting the crowds it needed anymore.
Cue the Moscow Film Society, which is redefining the kind of movie that gets shown while building whole events around screenings, with a prefilm speech, swag — including custom, themed stickers — and audience participation.


Mannex, who started as the Kenworthy's executive director in January, sees the potential for this new kind of programming — the "experience beyond what's on the screen" — to drive the theater's future.
"People come because they want to talk, and they want to engage and they want to connect with things that are important to them, these cultural touchstones," he said.


That might be an interactive screening by the Palouse Cult Film Revival, or a benefit like the Ukrainian Cinema Night in April, where a Washington State University and University of Idaho scholars panel shared the experiences of friends and family living through the war.


An event earlier this month, with local band Pumice Pocket playing a live soundtrack to a screening of the 2007 Coen Brothers movie "No Country for Old Men," injected live art into cinema, Mannex said, "creating a hybrid that connects film and live entertainment."


Pumice Pocket got a standing ovation. Mannex said he experienced a change in how he thinks about film.


"It was just a really cool experience," he said.


In that vein is a plan to get musicians and composers together for a silent film series slated for May, with original compositions accompanying the screenings in different styles of music, a project close to Mannex's heart, as a former high school teacher and college professor who taught silent film classes.


Community funding, including the proceeds of Saturday's event, allows the theater to continue to build and maintain such diverse programming.


Those who purchase VIP tickets, $50, will have special access to the new backstage space, with its limited 49-person capacity.

Industrial stage doors give the mini-nightclub, which can be accessed through the alley in back, a true speakeasy feel, Mannex said, and he's excited for patrons to experience it.


The hope is eventually to run it as a regular bar on Friday and Saturday nights, and he's been talking to DJ Dave Camillo about offering a monthly dance party, possibly starting later this fall.


"The nightlife scene here is pretty limited," Mannex said.


He's doing his best to help change that.

Stone (she/her) can be reached at mstone@inland360.com.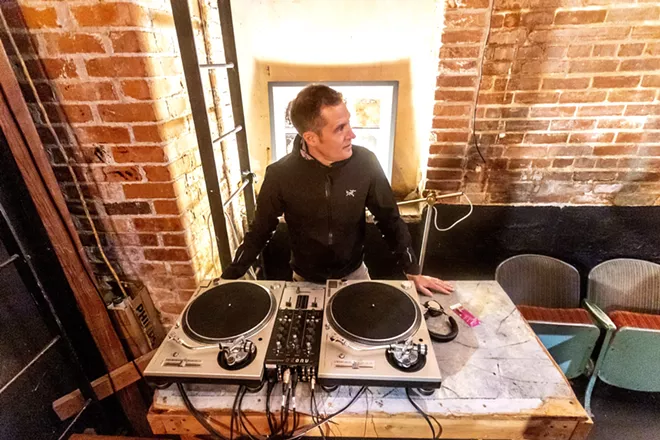 IF YOU GO


Backstage with the Band — A Kenworthy Benefit Concert and Auction


When: Saturday's silent auction starts at 7 p.m.; live music starts at 8 p.m.; auction winners announced at 9:45.
Where: Kenworthy Performing Arts Center, 508 S Main St., Moscow.


Tickets: $25 general admission, $50 VIP at tinyurl.com/kpactix.
.

Concert: Homegrown talent will be showcased with performances by Desolation Horse and headliner
Golden Boy.


Auction: Items include an array of options, such as hotel stays, private movie nights and a package with the services of local disc jockey Dave Camillo as a vinyl DJ, movie-themed records from Revolver and a private backstage rental of the new speakeasy.


Of note: A "Wheel of Fortune" game to raise money for replacing stolen marquee letters is set for 7:30 p.m. Several of the vintage, custom letters disappeared from the theater recently, with 14 of them (about half the missing letters) anonymously returned last week, a development Executive Director Colin Mannex called "really, really heartening."