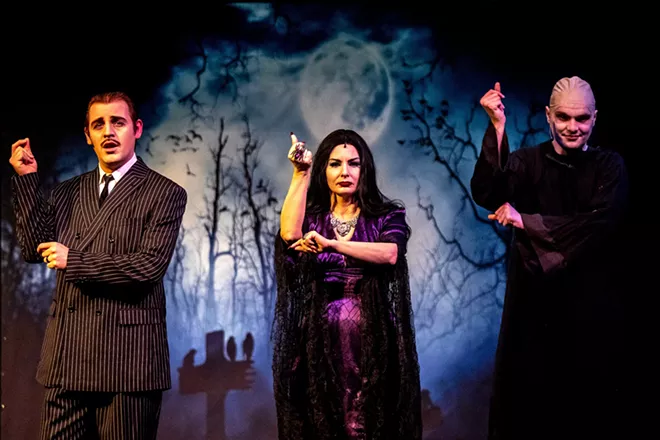 The Lewiston Civic Theatre returns from its pandemic-imposed slumber this weekend with "The Addams Family" and its macabre collection of quirky characters.
The production melds seasonally appropriate darkness with musical talent, humor and a hopeful message about what really matters in life, launching a season that will play out on the stage at the old Lewiston High School on Normal Hill.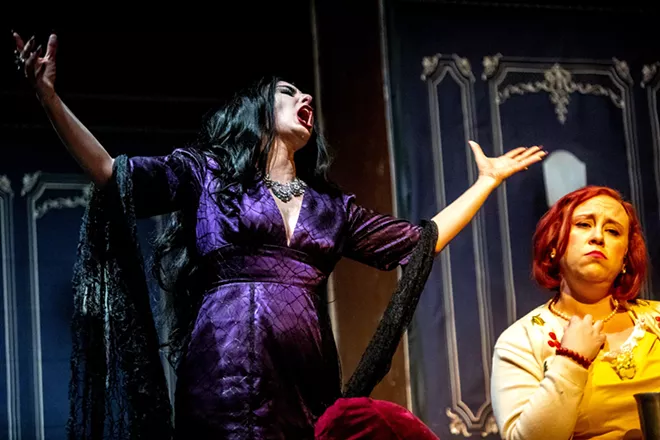 The theater reached an agreement with the Lewiston School District to use the former high school's auditorium, Executive Director Nancy McIntosh said, giving it a consistent location as the nonprofit's volunteers — McIntosh is the only paid employee — work to bring audiences back after an 18-month hiatus.
Venues varied in the years leading up to the pandemic after the theater's former building, now called the Anne Bollinger Performing Arts Center, was condemned in 2016.


"The Addams Family," opening Saturday, hits all the right notes for a comeback production, said Amy Baker Stout, who stars as Morticia Addams, lends her talents as musical director and also serves as vice president of the theater's board of directors.
"It's something that really appeals to every generation," Stout said.
Her son, Connor, 9, plays Pugsley, the son of Morticia and Gomez Addams.
"It's been fun being his real-life mom and his stage mom," Stout said. "This is his first main stage show."


Director Larry Goodwin said he expects theatergoers who are familiar with "The Addams Family" from film and television will enjoy seeing the characters they know.
"Obviously if you know the Addams Family, then you know the bulk of the characters and the story," Goodwin said.


In this musical version, he explained, daughter Wednesday, played by Sydnee Swift, "is looking to marry into a regular family," resulting in clashes between the families and, eventually, the realization by the "ordinary" folks that they were missing out on life. It's the Addamses, it turns out, who show them what really matters.
Bringing back live performances with COVID-19 still looming meant dealing with some unknowns.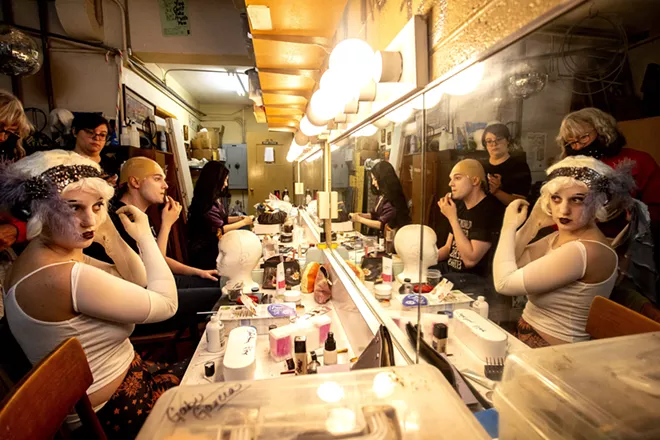 "I think we had probably a little less than we expected," Goodwin said of the number of actors who auditioned for the musical, noting there were some who stayed home because they didn't want to be around crowds.
Nevertheless, he's "very, very excited with our cast and who we have, so it's going to be great."


Keeping people socially distanced is a priority, McIntosh said, and to that end audience members will be seated "in their pods" with a few seats between them "so that people aren't too close together."
"Navigating COVID has been interesting and will continue to be, I think, just performance-wise," she said.


"It's important to know safety precautions are being taken," said Micheal Keene, who plays Gomez, noting the cast wore masks during practices, and anyone who felt ill participated remotely, by Zoom.
Now, the focus is on letting the community know its theater is back on stage.
"It's been a long time, and we're grateful to get back at it, for sure," McIntosh said. "And I think our actors are happy, too. And it looks like we're selling tickets, so that's good."


Stout put it succinctly: "We need everybody to come see the show," she said.
Tickets are available online at lctheatre.org.


IF YOU GO
WHAT: "The Addams Family" musical performed by the Lewiston Civic Theatre.
WHEN: 7:30 p.m. Oct. 16, 22-23 and 28-30 and 2 p.m. Oct. 17, 24 and 31.
WHERE: Normal Hill campus (the old Lewiston High School), 1114 Ninth Ave., Lewiston.
TICKETS: Adults, $19; seniors/veterans, $16; students, $14; children, $11.
OF NOTE: Audience members can participate in a costume contest at the Halloween matinee.