Ugly Christmas sweaters are all the rage. But with their recent popularity, it's hard to find a holiday themed sweater, let alone a solid red or green shirt, at thrift shops this time of year. So here's a list of five do-it-yourself sweaters that can be made at home without blowing the Christmas budget. You'll be dressed to impress at your next holiday party, and heck, you can even sport your creation on Christmas morning.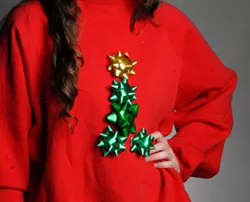 Bountiful bows
1. Buy a bag of gift wrapping bows. Make sure they all have a sticky backing. 2. Remove the backing and stick the bows onto a cotton sweater. Use extra masking tape to secure the bows, if desired. Cover the sweater entirely, or make a color-coordinated shape, such as a candy cane or a Christmas tree. 3. If attending a party, stick to side hugs and handshakes for the night. The bows may not stay put.
Tinsel tank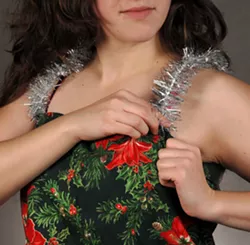 1. Find ugly Christmas-themed fabric, and old tinsel. My designer friend, Katy Sword, used a poinsettia tablecloth from Moscow's Salvation Army. 2. Measure chest, waist and hips. Measure from where the shirt will start to where the shirt will end. This will be the length. 3. For a simple top, take the widest measurement, add a few inches, and cut a piece using that and the pre-measured length. For more advanced sizing, and a better fit, calculate where to taper the fabric. Generally, hips and chest are fairly even, so one measurement should work. 4. With a sewing machine, sew the fabric lengthwise, making a circle. This should need one seam. 5. Take the tinsel, and measure how long the straps need to be to meet the top and back of the shirt. There can be two straps, or one, made into a halter behind the neck. 6. Sew tinsel to the shirt. Be gentle, and go over the seam multiple times. And then a few more times for good measure.
Pinned presents
1. Buy Christmas-themed pins, i.e. snowmen, Santa Claus, reindeer, snowflakes or wreaths. 2. Hook all of the pins onto the sweater — the more the merrier
Wintry wreath
Level: Straightforward snowman
1. Wrap a small wreath with holiday lights or tinsel, and drape around the neck. Team the wreath with a thick turtleneck sweater to avoid itchy skin.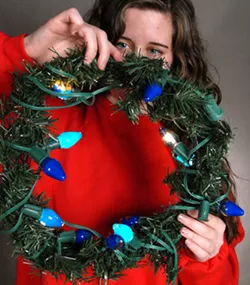 2. While it may be tempting to sit on a couch plugged into an outlet all night — who wants to be social at a party, anyway? — it's better to leave the lights unplugged most of the night. During the Inland 360 photoshoot, one minute of powered lights around the neck resulted in smoking hair ... and an almost bald reporter.
Stuffed sack
Level: Intermediate icicles
1. Find a small, holiday-themed stuffed animal, such as a reindeer, angel or Santa Claus himself. 2. Decapitate and dismember the stuffed animal. 3. Sew the paws (or hands and legs), and head into a purposeful position on an old shirt. This will look like the creature is peeking out from inside the sweater.
Treffry can be contacted at (208) 883-4640 or ltreffry@inland360.com. Follow her on Twitter @LindseyTreffry.
Where can I wear my creation? Hogans Pub Ugly Christmas Party: CO-DJ will mix EDM at Hogans Pub, where ugly Christmas attire is a must. Bad Santa will be on-site for pictures. Free. Hogans Pub is at 906 Sixth St., Clarkston.