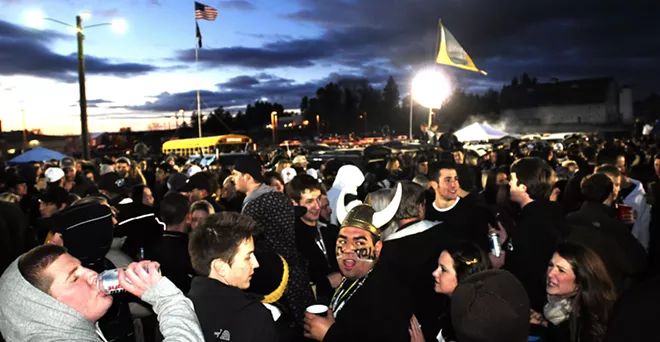 By KAITLIN MORONEY
Right where the blacktop meets the gravel.
That's where Vandal alumn Chad Laird said he, his friends and family hang out when they tailgate at the University of Idaho in the Kibbie Dome parking lot — although they do wander around to take in the festivities with other Vandals.
"Everybody's friendly," Laird said. "There's a group of people for you, depending on how crazy or how mellow you want."
And really, Vandal tailgating isn't Vandal tailgating without an adult beverage or two ... or six.
That's why, before the late 1990s rolled around and the University of Idaho took advantage of a loophole in the no-alcohol-on-campus law, tailgating practically didn't exist.
To make it into NCAA Division I-A, UI had to average a greater number of fans than they had been getting at their home games. So, to boost attendance, UI went right through the law's loophole by cordoning off the Kibbie Dome parking lot and declaring it "private property" for the purposes of pregame functions, according to a Lewiston Tribune article from October 1997.
One Vandal alumnus from 1973, Pat Sullivan of Weiser, Idaho, said he's had season tickets since 1993, and he and his wife, Cathy, have been tailgating ever since it really started up in the late '90s. After his many years of UI pregame party experience, he has it down to a science.
"We usually get there about between 10 and 11 in the morning," Sullivan said. "And unpack the trunk — which is packed with about everything we can get into it — set up the barbecue and the bar and start cooking and visiting with friends."
The biggest trick he's developed over the years is keeping it simple.
"We really learned to narrow down the essentials for what we pack," he said. "Knowing what you need, learning how to pack it in. We always try to buy stuff with regard to what's going to fit into the trunk and what won't."
He and his wife delegate responsibilities — he takes the grill, she takes the bar.
"That way it's supervised," he said.
His primary tip for tailgating newbies is to start slow.
"Don't try to do what you're not comfortable doing," Sullivan said. "We usually always do sausages. There's other people who will always do chili and that's what they do."
He adds that everyone says their sausages are the best.
"But we give them away," he said. "So that might be part of it."
Laird comes from a long line of Vandals and graduated in the '90s. He's been tailgating since he was a kid, although with the alcohol ban he said there was a bit of a lull when he was actually in college. Still, he's perfected a few tricks over the years, including wearing a glove on the beer hand to keep it warm.
"That's something me and my buddies have perfected over time," Laird said. "It's a good way to hold on to your beer."
But tip No. 2 from Laird takes it to the next level.
"Another thing we perfected is wear your koozie cup in a duct-tape necklace so you don't have to hold on to anything."
For both Laird and Sullivan, though, tailgating isn't about the sausages or the duct-tape koozie necklaces so much as it's about the friends and sense of community.
"It's kind of just a happy place for people to see other Vandals," Laird said.
Sullivan said much the same.
"You know, really it's about the people," he said. "My wife's not a big football fan, but usually late July or early August she'll say, 'I miss our tailgating friends, miss our football friends.' It goes back to what they've always talked about — it's the Vandal family."