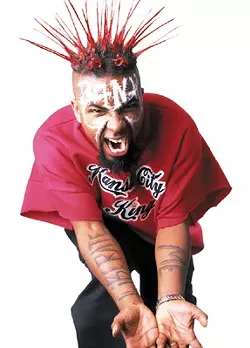 Tech N9ne's Hostile Takeover Tour 2012 has announced a surprise stop in Lewiston for an outdoor concert 6 p.m. Monday at Boomers' Garden downtown.
Tech N9ne is the stage name for Kansas City rapper Aaron Dontez Yates who has developed a loyal fan following of his rap/rock blend. Winner of a 2009 MTV Left Field Woodie award, he's sold more than one million albums and has had his music featured in TV, video games and film. His name comes from the TEC-9 semi-automatic handgun which his rapid-fire rapping has been compared to.
The Hostile Takeover Tour also features Machine Gun Kelly (MGK), Krizz Kaliko, Mayday, Prozak and Stevie Stone.
The groups are stopping in Lewiston in the midst of a coast-to-coast tour with shows in Yakima Sunday and Spokane Tuesday. Lewiston concert organizer Jay Starnes says it's a big operation. The tour will bring 45 people town on two tour buses and a trailer. The stage that will be set up will be of epic proportions for Lewiston, he says.
The concert is for all ages. Chairs will not be allowed. It will be standing room only, rain or shine, no refunds. Tickets are $35 and available at GNC in the Lewiston Center Mall; Pleasures and Glassphemy in Pullman; Pronto Express in Clarkston or online at Ticketfly.com. Boomers is at 0301 2nd St.