(See related column: Treasure hunt)

———

Here are a few tips from our expert, in no particular order: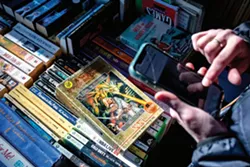 Don't forget to bring cash. Many people are starting to accept alternate forms of payment at yard sales, such as Venmo, PayPal and debit cards, but cash is still king and preferred by the vast majority. Small bills are best.
Remember to be sensitive to the homeowners, especially at estate sales. Estate sales are most often selling the belongings of someone who has died or moved into a care facility. Handle their belongings with care and show respect to the family, who is often selling sentimental items or struggling with the loss of their loved one.
Kindness goes a long way. Nobody wants to deal with someone who is rude, so why would they want to give you a good deal? I'm always hearing stories of "the guy that was just here" who was such a jerk. It's common courtesy, and you might get a hot deal if you're nice.
Don't be afraid to stop and chat. I've met a lot of great people and heard some fun stories at yard sales. You'll often hear the history of an item that just makes it all the more special. And if you're looking for something specific, don't be afraid to ask. A question like "Do you happen to have any old records?" might gain you entry to the "private collection" they hadn't thought of selling.
Early birds have a bad reputation, but you also have to be there on time to get the best stuff. It's a fine line. Often, people will welcome you, but if you plan to be early, be ready to wait in line or in your car if they're not ready for you.
No pushing, no shoving. It's America. There's plenty of stuff to go around.
Don't forget to use the restroom before you head out. They can be hard to come by in the wilds of the Lewiston Orchards.