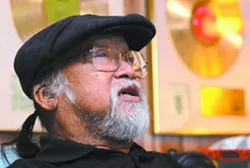 GRANGEVILLE — Lots of kids have a favorite Teddy bear or blanket, but at age 4 Larry Ramos bonded with a ukelele.
Growing up in west Kauai, Hawaii, the little Filipino boy slept with the instrument so he could wake up and start playing. His command of music brought him national attention and eventually took him to the top of the Billboard charts as a lead singer for the 1960s pop band The Association.
One of Ramos' ukeleles is on display at Hawaii's Kaua'i Museum, another sits on a shelf in his mother's double-wide trailer outside Grangeville, the town where he has lived since 1995. A surfboard leans against a nearby wall.
"The walk to the beach is a long one from here," says Ramos, 72, whose final concert with The Association is Monday, Feb. 24 here.
Kid "whiz" on the ukelele
When he was 4, Ramos' father taught him to play "My Bonnie Lies Over the Ocean" on the ukelele. Ramos took it from there, practicing on the floor of the hotel gift shop where his mother, Pat, worked.
At age 5 he won a local music contest with his sister. At age 7 came two big breaks. He appeared in the MGM musical "Pagan Love Song," starring Esther Williams, and also won a statewide ukelele contest organized by Arthur Godfrey, who took him to New York to appear on his national radio and TV talent show.
"It didn't seem like anything special," Ramos says.
What did impress the boy was that his appearance on Godfrey's show was illustrated in a Wonder Woman comic book, another memory framed on the wall in Grangeville.
"When you're a little kid that means a lot," says Ramos, smiling out from his gray goatee and mustache.
At 13, Ramos was cast to play the crown prince in a touring production of "The King and I" with Yul Brynner. His mother pulled him out of school and they followed the show living in hotels. Looking at autographed photos of Brynner, Ramos remembers him as "a jerk."
"The problem with that man was that he never got out of character. He was a king on stage and a king off stage. He had such a filthy mouth."
The kiss of death
Worried about her son's education, his mother returned him to school after a year. As a teen in the 1960s, Ramos discovered that while he was "a whiz on the uke" people were actually making money playing folk music at local coffee houses. He quickly learned some folk songs ("The music was so simple. There was no challenge to it.") and went to work. One day someone asked him if he wanted to audition for a 10-member band that was to play the music for "The Andy Williams Show."
He asked what their name was and was told the New Christy Minstrels.
"Immediately I thought, 'Oh man, that name will never sell,' " he says.
At the audition he noted he was "the only brown kid in the group." When he didn't hear back after a couple weeks he figured he didn't get in, but then he got a call.
"They said they had to clear it with the producers because I was the only non-white and they didn't know if that would work out or not. Then they thought, it's Americana, it's cool. I stood out like a sore thumb but I became one of the more popular ones. Many people thought being brown would handicap me. Actually, that has helped me more than it hurt me."
Ramos toured almost every day for three years and was there when the band won a Grammy for best choral group. During that time he met his wife, Helene, a Grangeville native.
"It's your typical Nevada marriage, entertainer meets blackjack dealer," Ramos says. "They gave us six months. This year we've been married for 50 years."
The day his wife delivered twins by C-section, Ramos flew in with enough time to see the babies and give her a kiss before returning to the tour. The next time he saw them they were six months old. He told his producers he was quitting the band because he wanted to watch his children grow up.
"They gave me the kiss of death. They said if I quit, I'd never work in this business again."
Joining The Association
Ramos didn't worry much about the threat. He took studio work doing background music and back-up singing. Then he met a member of The Association who asked if he was interested in joining the band while its lead singer, Gary (now Jules) Alexander, traveled to India to visit his guru.
Their music was different than any rock Ramos had ever heard. He appreciated its complex harmonies. With the ensemble he recorded the top hits "Windy," singing lead with Russ Giguere, and "Never My Love" singing with Terry Kirkman.
He says he wasn't surprised when the songs swung to the top of the charts. The songs feature harmony, which Ramos learned to sing as a child with his sister.
"When I heard the song 'Windy' I thought, 'That's a cutey, that should do well.' When I heard "Never My Love," I thought, 'That's a hit.' "
When the group accepted its second gold record for "Windy," Ramos saw the manager who told him he'd never work again sitting in the audience.
"How sweet that was," says Ramos with a smile.
Eventually The Association sold 80 million records (click here to hear their five biggest songs). Several of the band's songs remain classics. "Windy" was featured in an episode of "Breaking Bad."
Ramos toured with the group until recent years when illness took him off stage and left his fingers too numb to play. After a life of constant touring he says staying home leaves him with an empty feeling. When he decided to plan a farewell concert his manager suggested Las Vegas. Ramos chose Grangeville, where he has never performed. He wanted his last show to be for friends and family. The Association, including original members Jules Alexander and Jim Yester, will stop in from their West Coast tour. Ramos will also release his "first and last" CD, which includes songs he wrote such as "Never My Love" in Hawaiian, and others, like his first recording from the film "Pagan Love Song."
"We had a good run, a damn good run," Ramos says.
Watch a short video interview with Larry Ramos by clicking here.
__________
What: The Association presents the Larry Ramos Farewell Concert When: Concerts at 6 p.m. (sold out) and 8:30 p.m. Monday, Feb. 24 Where: Blue Fox Theater, 116 W. Main St., Grangeville Cost: Tickets are $25 and can be obtained by contacting Bob or Carolyn Haning at (208) 983-6392 or emailing jentaind@yahoo.com. Proceeds will be donated to the Clearwater to Salmon Rivers Relay for Life. Of Note: There will be a meet and greet from 7:30 to 8:30 p.m. at Oscars Lounge for autographs and a no-host bar.