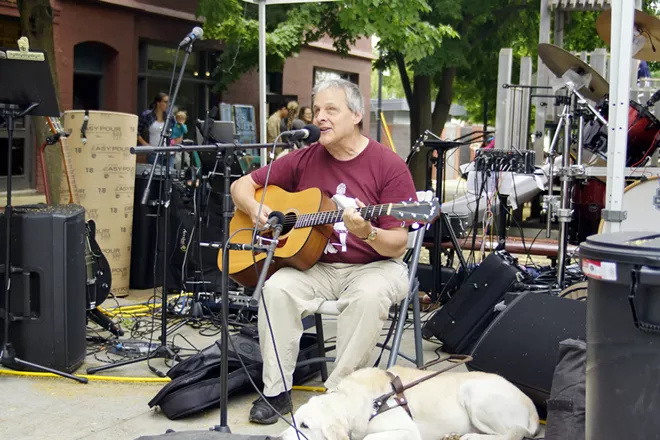 By Tara Roberts For Inland 360
For Dan Maher, 35 years as host of Northwest Public Radio's "Inland Folk" show is a pretty good reason to celebrate. But then, so was last year and the year before that, and next year and the year after and whatever comes beyond.
"If things are cool and positive, I think we should be celebrating they exist all the time," Maher said. "Thirty-five years is great, but I intend to keep going."
Inland Folk was born in the summer of 1982 at Spokane Public Radio, but Maher soon grew tired of hauling boxes of vinyl records from the Palouse to Spokane. He convinced the fledgling Pullman station then known as Fine Arts Radio to pick up the show, and it grew from there. By the time it expanded to three hours in the early 2000s, Maher was his own producer, engineer and editor, and Inland Folk was a staple for listeners across the Northwest.
Just as Maher resists limiting celebrations, he resists narrow definitions of good music. This is evidenced in the eclectic and unbound nature of Inland Folk and the massive personal music collection from which he draws his shows.
Among Maher's long list of favorite artists are folk mainstays like Pete Seeger and Phil Ochs, instrument masters like steel-string guitarist Tony Rice, and contemporary acts like Moscow native singer-songwriter Josh Ritter and Pennsylvania-based trio the Stray Birds. He'll even give a pass to Adele, though he's no fan of the mainstream music industry.
What he looks for above all is heart: He's drawn toward artists who interpret songs and make them their own; who radiate energy and authenticity; who speak to issues that resonate in any time.
"We still have racism, we still have barrels full of sexism. … We still have war, we still have a world that's divisive. We should be trying to heal, and music is a way to do that," he said. "These ideas of love and anger and unrest, and emotional unrest and personal unrest and angst, these are always going to be in music."
Maher often features new songs on Inland Folk, but jokes that he could replay shows from 1982 and no one would really notice. Sometimes, he digs into his library and pulls out random CDs to bring to the studio, which helps him (and his listeners) rediscover old loves.
"All of a sudden I'm going, 'Damn, this is good stuff,' " he said.
He uses Inland Folk as a platform not only for sharing the music he finds valuable and interesting, but also for educating listeners about it. He might point out the difference between three-fingered bluegrass banjo and Dixieland banjo, explain an instrument's origin in slave communities or provide the backstory on a song's writer.
In addition to the radio show, Maher is known around the region as a guitarist and singer. When he's performing, he holds himself to his own standards of authenticity. He plays only covers, but will not reinterpret just any song -- it has to be personal. A love song to New York City wouldn't make his setlist, but an ode to the Columbia River might.
Because Maher, who is blind, learns all his songs by ear, he's also careful not to simply emulate his teachers.
"The way the emotions come into my voice, I want those to be more pronounced. I sing it over and over and over -- when you do that, it becomes more your song," he said.
On air and on stage, Maher also keeps watch for complacency. Sometimes that means introducing fresh material. Sometimes it means going back to the basics.
"I have to move with the music. If that means going back and playing more Woody, or playing more Reverend Gary Davis, then that's what I'll do," he said. "I'm not moving backward, because I'm showing people stuff is still out there."
This drive to always dig deeper and explore wider is what keeps Maher on track for the future of Inland Folk.
"There's so much about music that I have no clue," he said, "but I just keep learning and learning."
Watch and Listen
"Inland Folk" airs 11 a.m. to 2 p.m. Saturdays on Northwest Public Radio's classical and NPR stations. Old shows can be streamed online
You can watch the new show "Jam with Dan" and the "Inland Folk 25th Anniversary Concert," which took place June 22 in Richland online at www.nwptv.org.
Maher will receive a star on the Pullman Walk of Fame at 10 a.m. Aug. 19 during the National Lentil Festival on Main Street in Pullman.
Roberts is a writer and mom who lives and works in Moscow and is very slowly pursuing her master's degree in English. She can be reached at tarabethroberts@gmail.com.