As you gather around the Christmas tree, a pagan tradition that has withstood centuries, take a moment to consider a holiday underdog deserving of its due: the lowly pickle.
A few trees have a glass pickle ornament hanging somewhere amongst the branches. Ask why, and American owners might attribute it to an old German tradition: On Christmas Eve, the first child to find the pickle will have good luck and get an extra present.
Germans have never heard of this tradition.
How the pickle found its way into our Christmas is not a sweet story. It's "Silence of the Lambs" meets Santa Claus. Like any historian worth his pickling spices, I brave the dark corners. If you only dine on treacly holiday tales, this is your trigger warning.
When we think of Santa Claus today, we see a calorically challenged old man in a red suit with the superpower to see what children are doing at all times. This is the evolution of Saint Nicholas, the patron saint of children (and pawnbrokers and wolves), a monk believed to have lived in fourth century Greece. He was not fat because, according to one legend, he only ate twice a week. He did wear red clerical robes.
To be a saint, one must perform miracles. In one of the most famous, Saint Nicholas brought three boys back to life after they were murdered by a butcher who threw their bodies in a pickling tub for later enjoyment. The story is preserved (no pun intended) in the form of a 1500s oak sculpture in the collection of the Metropolitan Museum of Art.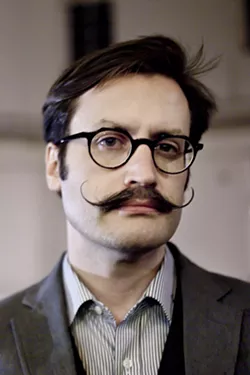 Perhaps we can interpret this as a tale about the power of preservatives. Regardless, it's the only link between the pickle and the established legends of Christmas.
In the 1880s, Woolworth department stores started selling glass ornaments imported from Germany. Among them was a pickle. Maybe its appearance is as simple as the fact that Christmas hasn't always been a fudgy avalanche of cookies and peppermint mochas. Pickles were once valued in holiday feasts, a taste of summer miraculously preserved in the deep of winter, an exciting detour from the bland bread-and-potato German diet.
Chalk it up to vegetablism, for whatever reason the Christmas pickle has never attained the fame of other holiday symbols, like the ubiquitous candy cane (a sweet rejected the other 11 months of the year) or the improbable flying reindeer with a biohacked flashlight nose.
When you consider these fantasies, a salty, old, lumpy cucumber has a lot to live up to.