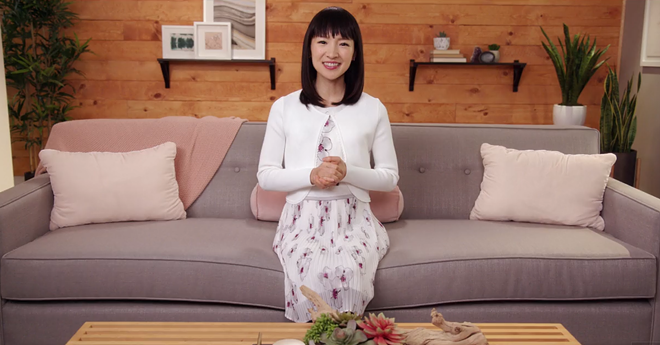 If you have not yet held up a shirt of yours and asked if it "sparks joy," now is a good time to give Marie Kondo's tidying techniques a try.
Tidying up has become a national pastime with the release this month of "Tidying Up with Marie Kondo" on Netflix. Based on the cleaning method presented in Kondo's book "The Life-Changing Magic of Tidying Up" (2014), each episode features Kondo working with an individual or family to organize and bring joy their living space.
The method focuses on what to keep -- not what is "useful," but what makes you happy. It's about having a more joyful life surrounding by things we like and unburdened by excess stuff.
Using the KonMari method of tidying up, individuals in the show work through a specific order of categories in their home -- clothing, books, paper, "komodo" (miscellaneous) and sentimental items -- holding each item and asking if it "sparks joy." Those that do are placed where they belong; those that don't are thrown away. The method also addresses some of the psychological reasons many of us keep unnecessary items -- it was given as a gift, for example, or we feel guilty about buying it and never using it.
While not religious, the method has elements of Shinto, an ancient Japanese religion that incorporates a belief in the sacred power of animate and inanimate things. Kondo worked in a Shinto temple for five years, which is why she is seen greeting each home, tapping books to wake them and thanking items for their use before disposing of them.
Besides the predictable camera confessions, dramaticized before and after pictures, and teary expressions of gratitude, the show also offers practical tools on following the KonMari method of tidying up.
Best of all, it makes you want to clean. Whether it's Kondo's high-pitched joyful giggles or the hopeful transformation process, the recent inundation of donations to thrift stores around the nation show that tidying up is something most of us can -- and need to -- do.
Now that you've tidied up
You've gone through your home and made a pile of everything that doesn't spark joy. But now what? Here are your options for how to get rid of your stuff:



If someone else wants it, give or sell it to them.

In her book, Marie Kondo cautions against this practice because it's not a kindness to burden others with items that have burdened us. So, don't send these things home with your unsuspecting grandkids. If someone legitimately wants what you have, give it away or sell it. But do it quickly. The longer these things sit around, the longer they remain your problem.



If someone else might want it, donate it.

Much of what we no longer want has value, just not to us. By donating to thrift stores, these items can have a second life and their sale funds community services.



If it's broken, fix or donate it.

Many broken goods can be repaired by someone who has the time and ability. If that person isn't you, ask your local thrift store if they accept broken-but-fixable goods, some do. Most broken plastic can't be repaired, however.



If it can be recycled, recycle it.

Almost everything that's not plastic can be recycled. Some thrift stores accept mattresses, torn and damaged clothing, old shoes and damaged books for recycling (check with the store first and identify the items at donation). Electronics, cords of all types, books and more are accepted at local recyclers. Check with these local recyclers to find out what your options are: Latah Sanitation/Moscow Recycling: (208) 882-0590, Lewis Clark Recyclers Inc.: (208) 746-1187, Lewiston Transfer Station: (208) 746-0389, Pacific Steel and Recycling: (208) 743-2181, Pullman Recycling: (509) 334-1914 and Sutton Salvage: (208) 746-0221.



If it has no value to anyone, throw it away.

When none of the other options will work, it's time to throw the item in the garbage.



Love "Tidying Up"? Here are some spin-offs we hope to see:
"Tidying Up the Federal Budget" -- Watch as Marie Kondo leads Congress through every line item in the national budget to vote on whether or not it sparks joy. Funding that does not spark joy in a majority of congressional members is thanked and lovingly nixed.
"Tidying Up Your Relationships" -- Individuals tidy up their relationships by working through a set order of categories -- family, friends, co-workers, miscellaneous and frenemies -- identifying which behaviors in each individual spark joy. Although the focus is on the individual who is tidying up, the process is mutual and both sides must decide which behaviors to keep and which to throw away.
"Tidying Up Your Diet" -- In this revolutionary dietary technique, individuals eat only foods that spark joy. They are required to first hold each bite of food in their fingers/fork/spoon and ask if it sparks joy before being consumed. Weight loss is achieved because so much time "eating" is spent asking questions about joy. Raw broccoli, limp overcooked vegetables and foods made of ingredients no one can pronounce are lovingly thanked and thrown in the garbage.