By MICHELLE SCHMIDT
mschmidt@inland360.com
Whittling might seem simple enough. But these days hardly anyone knows how to carve shapes in a piece of wood with a knife.
Potlatch artist Ted Kelchner is an exception. He has been whittling for years, and he's sharing the skill at a free class that begins today in Potlatch.
Kelchner picked up whittling as a kid, then later employed the same concepts while using a chainsaw to create large-scale carvings of ordinary objects -- like the 18-foot bobby pin, which once stood in Moscow's Prichard Gallery. Other chain saw "whittled" items included working pliers, a ball and chain, clothes pin and a fisherman's knot.
Kelchner grew up in Pennsylvania and earned a degree in woodworking and furniture design at the Rochester Institute of Technology's School for American Crafts in New York state. Then he and his wife, artist Andria Marcussen, packed up their things and went in search of a place to practice their art. Heading west in search of a northern location with both forests that would give them wild spaces to roam and a library that would provide culture, the couple landed in Potlatch.
And that's when Kelchner started whittling again. He went in search of an old-time whittler who could teach him more. It seemed like an easy enough quest, given Kelchner's proximity in time and space to logging camps.
"But I got the same answer from everyone: 'I knew of someone ...' " Kelchner said. However, none of these master whittlers were still living.
The next line he regularly heard was, "The people you really gotta check out is these people who carve bears."
It wasn't what Kelchner had in mind, but he realized that the chain saw carvings that people did in logging camps served the same folk art function as whittling. It employed imagination using material and tools that were readily available.
"It fit the exact same social function as the old-time art of whittling," Kelchner said.
So he began chain saw whittling, but instead of using logs to make bears, he used the techniques and concepts he'd learned from traditional wood carving. One whittling trick he'd learned early on was how to carve a piece with multiple parts out of a single block of wood.
It's a concept that's used around the world, he said. In Mexico, it might be a ball in the mouth of a panther, and in China it might be spheres nestled inside a ball. Kelchner used the technique to create his giant-sized working pliers and other pieces.
"It's a simple thing, but people are fascinated by it," Kelchner said.
The large-scale whittling was a focus of Kelchner's art around 20 years ago. "I saw it to its logical end," he said. "I explored the idea to its fullest."
And then it was time to try something new. At that point, he said, the art continues to make money -- in fact, it's often when it begins to be lucrative -- but it's just labor.
"It's not pure art anymore," he said.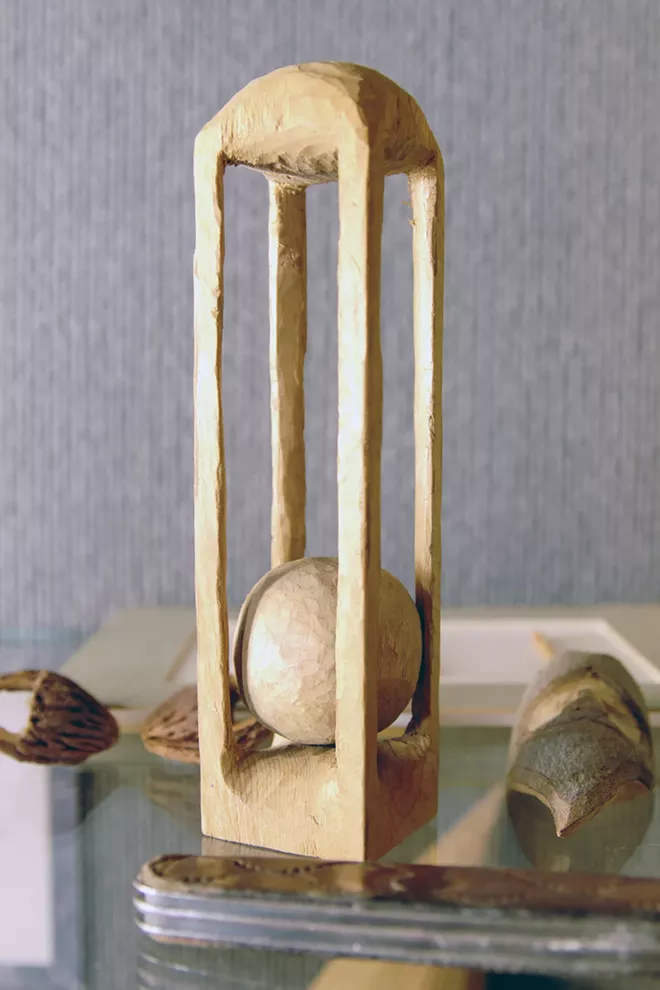 As artists, he and his wife don't limit himself to a single expression of art, like sculpture, drawing or painting. They do a little bit of everything, including, most recently, experimental music projects.
"I do all kinds of different things to explore a concept," he said.
On a recent trip to the Potlatch Public Library, Kelchner and his wife noticed a book on whittling. He spoke with Beth Tunnell, the branch manager, and she asked him to host an exhibit of his whittling work, which is up now through the end of January. In addition, he's offering a free class on traditional whittling that begins today.
During the four-week class, participants will work step-by-step to create a ball in a cage using a single block of wood. The project will be completed by the end of the class, and participants will learn a number of whittling techniques that will allow them to then go on to create other objects on their own.
"They're also learning how to see the thing inside the block of material," Kelchner said.
The class is open to anyone 12 years and older. Participants are asked to bring a small pocket or pen knife, with a 1- or 2-inch blade. A sharp knife is necessary to shape the wood that will be provided, but the class also will cover knife-sharpening skills.
IF YOU GO
WHAT: Whittling class by artist Ted Kelchner.
WHEN: 6 p.m. today, next Thursday and Jan. 23 and 30.
WHERE: Potlatch Public Library, 1010 Onaway Road, Potlatch.
COST: Free.
OF NOTE: To register for the class, contact potlatch@latahlibrary.org or call (208) 875-1036. Participants will need to bring a small, sharp pocket knife.