By Scott Jackson
For Inland 360
With the pandemic showing no signs of relenting, organizers of the University of Idaho's Auditorium Chamber Music Series are rethinking how to offer the annual fall and spring concert series.
Series Director Leonard Garrison said the school typically offers four concerts -- two in the fall and two in the spring -- in which they bring artists to Moscow to perform live concerts that are open to the general public. This year, due in part to the pandemic, he said the series will include three concerts rather than four. As infection rates continue to surge both regionally and nationally, he said the concerts will continue, but those who wish to attend may have to do so online.
"We will have the concerts whether they're in-person or on the internet, streaming," Garrison said. "Either way, it's going to happen."
Garrison said the first two concerts of the series will take place Nov. 10 and Jan. 28. Both will be free, online events, forgoing the ticket charge typically associated with the events.
The first group of performers will be Neave Trio -- a famous piano troupe that plays contemporary and classical music -- that will perform remotely.
For the uninitiated, Garrison explained a piano trio is not composed of three pianists but is a common arrangement in classical music featuring piano, violin and cello. He said Neave Trio brings its own remarkable twist to the world of classical ensembles.
"They happen to specialize in music by women composers, so we reached out to the UI Women's Center to be a co-sponsor of this concert," Garrison said. "Women have been underrepresented in classical music for a long time, so this is a wonderful program, it's wonderful music and not as well known as Beethoven and Brahms and so on."
Garrison said January's program will feature the St. Lawrence String Quartet from Stanford University in California. The four-day string quartet residency the UI offers every January will be delivered in an online format as well.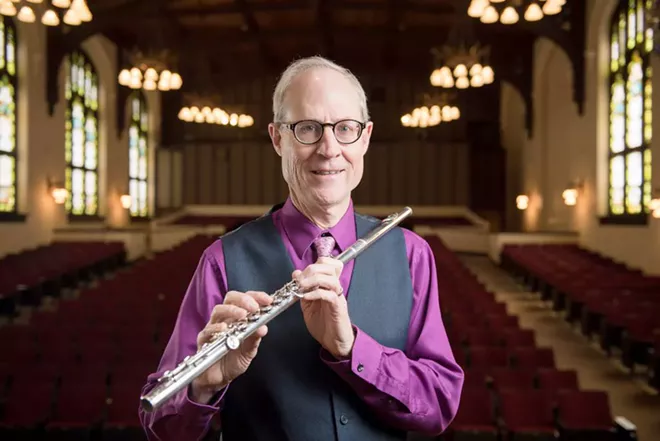 Garrison described St. Lawrence's show as a "Beethoven sandwich" featuring two string quartet pieces by Beethoven, with a piece by popular modern composer, John Adams, in between.
"This piece was actually written for them so it's going to be a special experience for us to hear the people that it was written for play the piece," he said.
A third show on April 14 will feature the famous men's acapella group, Chanticleer, from San Francisco. Garrison said Chanticleer originally was scheduled to play in last year's concert series, but the show was reassigned to the 2020-21 series. It's uncertain whether this concert will be offered in person, Garrison said, but he expects to announce a decision by April.
He said while it is hard to make firm plans with a pandemic gripping the globe, keeping these programs alive not only has incredible value to local communities but also provides the means for musicians and other artists to continue to produce during tough times.
"Musicians are suffering because all their work has dried up, and arts organizations are suffering too, because, you know, what can you do?" he said, at a time when the arts have become even more necessary as mounting global crises are having acute effects on mental health in the general population.
"Music is soothing to people, and it's almost a spiritual medium that takes you into a different place -- music is a balm for the soul, as they say."
IF YOU GO
WHAT: Neave Trio.
WHEN: 7:30 p.m. Nov. 10
WHERE: The concert is livestreaming at www.NeaveTrio.auditoriumseries.org.
COST: Free.
OF NOTE: The show is part of the University of Idaho Auditorium Chamber Music Series.