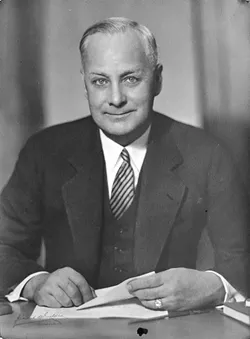 Under an old photo of Moscow's Frank Bruce Robinson is the bold title "Discoverer of the Power of God." The Moscow druggist founded a mail-order religion called Psychiana, which changed the face of Moscow forever. "God-Power: How Psychiana Helped Change Religion in America" is the focus of Saturday's Suds with a Scholar talk sponsored by the Latah County Historical Society. Greg Atkins, a doctoral candidate in history at Washington State University, will get into character to tell the story of a recovering alcoholic who detested organized religion. Inland 360 got a sneak peek from Atkins on what the night holds, besides beer from Hunga Dunga Brewing Co.
360: Who was Frank Robinson?
GA: He was born in England and his father was a fire and brimstone preacher. His mother died when he was 8. His father remarried and, according to stories, his stepmother was abusive. When he was 14, he attacked his stepmother for attacking his younger brother. His father kicked him out and he came to the U.S.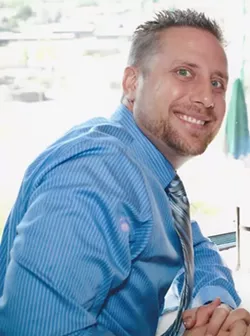 It gets interesting because Robinson maintained he was born in the U.S.
360: What was Psychiana?
GA: Psychiana was a mail-order religion and you sent off for these courses by correspondence. I think there were 20 of them and then 20 advanced courses. They were about $1 a course. Essentially, it is kind of New Thought philosophy, a broad umbrella of thought based on the idea of the power of positive thinking. Robinson is doing this with Psychiana even before Norman Vincent Peale in the 1940s. The focus was changing your attitude, changing the way you think. He does have some exercises, like praying or meditating every day for 5 minutes on how things are getting better. Another was to jump out of your chair holding your hands in fists and shouting things are going better.
360: How did he grow his religion?
GA: He advertised a lot. That's kind of where he got his start. To go back to the very beginning, he had a vision of somebody standing over a dead body on a cot and talking to him he found out it was some guy in Egypt. He sent him a letter and out of the blue the guy sent him $16,000. That's how he paid for advertising. He advertised in pulp magazines in the 1930s that were cheap; people could afford them even in the Great Depression. His message that things could get better, that was a message people in the '30s wanted to hear.
360: What was the response at the height of Psychiana's popularity?
GA: At the the height he was receiving 60,000 pieces of mail a day. In fact, it's why even today Moscow has a post office and federal court building so big for a town this size. They needed a large sorting center for northern Idaho based on Psychiana's correspondence.
360: How long did it last?
GA: Robinson died in 1948. His family kept it going (until 1953). His wife and son were both Presbyterian and never stopped attending church even when they took over Psychiana. Frank Robinson was against the established Christian church. It was said he wore a pink priest's collar as a "screw you" to the established church. One of the things that I'm going to try to argue is that even though these religions like Psychiana seem like flashes in the pan, they're much more common than we like to think. Their significance is the influence they have on a large number of people.
If You Go What: Suds with a Scholar When: Doors open at 4 p.m., talk at 4:30 Saturday, March 4 Where: Latah County Event Center, 1021 Harold St., Moscow Cost: $10 or $8 for Latah County Historical Society members and students with valid ID Of Note: Entry fee includes one beer. Additional beverages and food will be will be available for purchase from Hunga Dunga Brewing Co. Music by Delta G Bottleneck Blues will follow the talk.