2013 was the year of the twerk.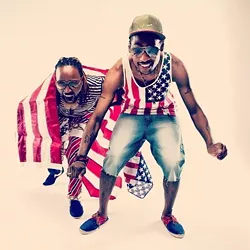 The hip thrusting, low squatting movements were popularized on YouTube and through the social media application, Vine. Miley Cyrus twerked during the 2013
MTV Video Music Awards
, and the word itself was added to Oxford Dictionary Online.
While twerking may be traced back to traditional African dances and some songs in the early 1990s, the Ying Yang Twins brought twerking into the mainstream with their 2000 hit "Whistle While You Twurk," which reached No. 17 on Billboard's Hot R&B/Hip-Hop Songs chart.
Fourteen years later, the duo is still calling listeners to shake, twerk and dance: Their 2013 summer-release CD "Twurk or Die" features the song "Miley Cyrus," and says to: "Pop with it, pop with it. Do the Miley Cyrus. Rock with it, rock with it."
(Miley was only 7 when the Ying Yang Twins debuted).
The Ying Yang Twins perform 8 p.m. Wednesday at Boomtown American Saloon in Lewiston, and again at 8 p.m. and 10:30 p.m. Jan. 23 at Stubblefields in Pullman.
The Atlanta hip-hop duo features Kaine (born Eric Jackson) and D-Roc (De'Angelo Holmes), who recorded popular — and often crude — party singles throughout the years. A 2003 collaboration with Lil Jon on "Get Low" brought the Ying Yang Twins to fame, and years later, "Salt Shaker," "Shake" and "Badd" rose high on radio charts.
A parody of Geico's "Hump Day" commercial can be seen online with the Twins' "The Whisper Song" dubbed over a camel's lips. The New Orleans Saints play their hit "Halftime" after most touchdowns.
As for their single "Miley Cyrus," the Ying Yang Twins explained the reasoning behind the tune to a reporter at Artist Direct.
"Once we had seen Miley Cyrus twerking everywhere, it was like, 'Wait a minute, hold on. The twerk movement actually started with us.' We are the founders of twerking — not actually the word, 'twerk,' but the way people use it," D-Roc, 34, said. "It had a variety of meanings, but we made one meaning the whole United States jumped on and everybody was twerking their a**es off."
So, the Twins decided to make a sort of tribute.
"The 'Miley Cyrus' came from her liking the way the urban community dances and has fun," Kaine, 35, said. "As a kid she must have been a fan of Ying Yang Twins. She got our thing to the forefront where everyone is paying attention. We weren't talking to Miley Cyrus, per se. We're talking to the Caucasian girls who do the Miley Cyrus. She got the word in the dictionary."
Audiences, 21-and-older, can twerk at Boomtown American Saloon on Wednesday for $15, general admission, while a meet-and-greet ticket costs $35. Doors open at 7:30 p.m., while the show begins at 8 p.m. Tickets are available at ticketfly.com
Audiences, 18-and-older, will "Miley Cyrus" at a sold-out 8 p.m. Stubblefields show. Tickets are now available for an additional 10:30 p.m. show Jan. 23 for $15. Tickets can be purchased at Stubblefields, GNC and Don's Midway Grocery, or online at ticketfly.com. Doors open at 10:15 p.m.
Treffry can be contacted at (208) 883-4640 or ltreffry@inland360.com. Follow her on Twitter @LindseyTreffry.
-> if you go: WHAT: Ying Yang Twins perform WHEN: 8 p.m. Wednesday; 10:30 p.m. Jan. 23 WHERE: Boomtown American Saloon in Lewiston; Stubblefields in Pullman COST: $15-$60. Tickets can be purchased at ticketfly.com.