By Riley Haun
For Inland 360
If you'd come to dine at Maialina Pizzeria Napoletana a few months back, you might have found yourself seated at the long bar, watching a pizzaiolo build your order from the ground up. Just a few feet from the glowing, wood-fired hearth where the Moscow eatery's pizzas are baked, it's a warm, cozy spot from which to watch the magic happen.
Now, of course, all that coziness is a bit too close for comfort. The pizzas are still crafted from start to finish right in front of that fire — but instead of enraptured diners at the counter, all you'll see these days is stacks and stacks of pizza boxes.
Like many Moscow establishments, Maialina offers limited dine-in seating inside and on its spacious patio. But, according to owner George Skandalos, takeout is booming as guests choose to dine in the comfort and safety of their own homes.
"Pizza is a pretty takeout-friendly food, of course, but so much of the whole Maialina experience is enjoying the beautiful space here, so we didn't do much of it before," Skandalos said. "But now we need all this extra space just for boxes. It's never been like this."
With the prospect of enjoying a favorite local restaurant's menu in person during a pandemic feeling too risky for many diners, Moscow establishments pivoted quickly to make sure their dishes arrived at home as piping-hot and perfect as customers would get in the restaurant.
For Skandalos, who also owns Sangria Grille in Moscow, that meant a certain level of creative deconstruction.
Skandalos said Sangria's burgers skyrocketed in popularity after COVID-19 hit, owing in part to their "ideal comfort food" status. But he worried once the freshly-grilled patty hit the bun, customers would wind up with soggy burgers by the time they got their meals home. So he removed the patty with all its melted cheese, wrapped it up in a foil packet and nestled it alongside the bun and toppings. By the time customers were ready to eat, it would be as if it had left Sangria's kitchen seconds ago, Skandalos said.
At Bloom, a cozy brunch spot down the block from Maialina, owner Nara Woodland struggled to find a way to deliver the restaurant's signature craft mimosas without losing the magic of a fresh, fizzy flute of bubbly. Styrofoam containers leaked; straws and lids weren't very pretty. Woodland found a perfect alternative in the form of dainty, single-serve bottles of champagne, delivered alongside the other mimosa components in a separate container.
"So that not only solved our delivery dilemma, but makes it a really fun experience for the customer to pop that cork themselves and enjoy the mimosa at home," Woodland said.
Bloom's menu centers around comfort-food classics made with locally sourced, seasonal ingredients. In a time when comfort is in short supply, Woodland said the demand for hearty, soul-nourishing dishes like breakfast burritos, brioche French toast and bacon to-go is higher than ever. That's part of the reason Woodland extended the restaurant's takeout options through a new program offering heat-and-eat, family-sized dinners twice a week. Bloom usually only serves breakfast and lunch.
"You need something to feed you and your family fast, and that you're going to feel good about eating," Woodland said. "And so this was designed to fill that need, but we made sure you don't have to chop anything or even take it out of the container it comes in."
The problem of containers posed a learning curve as demand for takeout swelled, said Melissa Barham, who owns Lodgepole in Moscow with her husband Alex. Barham worried many of their menu items would sacrifice some quality when boxed up and sent out the door.
An upgrade to aluminum to-go containers, rather than the usual cardboard, keeps certain foods from getting soggy or cold, but Barham also opted to keep certain items off Lodgepole's takeout menu altogether -- like their Wagyu steak, which would be prone to overcooking if reheated at home, she said. To make up the difference, the kitchen came up with a bite-size version of the steak that holds up much better in transit.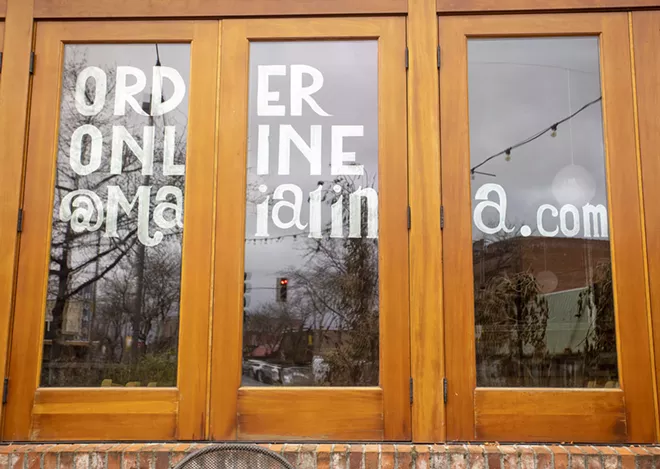 Despite some bumps along the way, Barham now feels confident that the only thing missing from Lodgepole takeout is the ambience of the restaurant itself. Even that can be brought a little closer to home by warming plates up in the oven before transferring your takeout onto them, Barham said.
"If you've got the time, we recommend popping your dinner into the oven to heat up while you set a couple candles, warm those plates, and pour yourself a good glass of wine to give yourself an at-home, fine-dining feel," Barham said.
Skandalos recommended the same move for taking your takeout pizza to the next level. And if time permits, he suggested eating your to-go off a plate, not right out of the box -- even if that means breaking down the box and eating off of it, Skandalos said.
"But really, my best suggestion is to just keep ordering takeout from these local restaurants as much as you can," Skandalos said. "If you love these unique, fresh local flavors, that's the only way we are going to stick around."
Readers Respond: Favorite carry-out meals
Restaurants are feeling the pain of pandemic restrictions on gatherings, especially in Washington where restaurants and bars are open only for outside dining or carry-out service. In response, people are supporting their favorite eateries by ordering to-go and buying gift cards.
For inspiration, we asked Inland 360 Facebook fans to name some of their favorite take-out meals from area establishments. Here are some of their answers, edited for clarity:
Danielle Nicole Dotson: Literally anything from Thai Garden in Clarkston and the Pollo a la Crema from Paraiso Vallarta in Clarkston.
Leesa Semler: Not really a meal unless you make it a meal but I like to get homemade salsa and chips from La Casa Lopez (Moscow).
Bonnie Waldemarson: Mariana's Tamales (Clarkston).
Kathie Llewellyn Smith: Anything from Zany's (Lewiston). Sharp's Burger Ranch (Lewiston and Clarkston).
Marlonn Murillo: California Burrito from Jose's Tacos on Bridge Street in Clarkston. Cuban Torta from Tacos Cecy, downtown Lewiston.
Eric Taylor: Three enchilada combo (Trio Enchiladas) from Paraiso Vallarta (Clarkston) and pretty much anything from Hogan's (Clarkston).
Sarah Church Baney: Great burgers at Hogan's (Clarkston). Also, Strike and Spare for some amazing sandwiches and soup.
Myndie VanHorn: Bites, or pretty much anything, from Brock's and Brava's (Lewiston).
Marisa Lynn Gibler: Samosas and curry from Mela (Moscow).