Vic Hudak, owner of Atom Heart Music in Pullman, noticed a ukulele movement five years ago.
"We used to carry basic, cheap ukuleles," he said.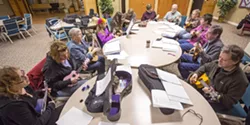 Then, he said, more people began to ask about them and interest in ukuleles seemed to increase.
Now stocked with an entire wall of ukuleles, Atom Heart sells a range of models and prices.
Hudak thinks the YouTube performances of Jake Shimabukuro and Israel "Iz" Ka?ano?i Kamakawiwo?ole — the large man behind the "Over the Rainbow/What A Wonderful World" — shot the interest in ukuleles skyrocketing.
A national magazine, "Ukulele," is on its second year and fourth issue.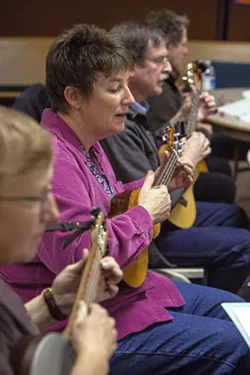 Following the trend, Hudak's wife, Gabrielle Schilling, along with ukulele enthusiast Scott Hallett formed U POP, or Ukulele Players of the Palouse.
"We call it a loose confederation of people that want to enjoy, learn and share," said Hallett, who picked up a uke four years ago for a trip to Hawaii, leaving his guitar to gather dust under the bed. A guitar simply wouldn't fit in his suitcase.
At the time, he thought he would be the only ukulele player in the world, but a simple Google search proved otherwise.
Ukuleles haven't been around too long, originating in the 19th century in Hawaii. They gained popularity in the U.S. by the 20th century, and Hallett said the inexpensive instrument provided entertainment during WWII.
"Ukuleles helped save Martin Guitar," Hallett said. "People couldn't afford guitars, but ukuleles were still affordable."
Ukes continued through the Jazz Age, and were featured on The Arthur Godfrey Show in the 1960s. Tiny Tim strummed one in "Tiptoe Through the Tulips," but after then, the uke lost its spark.
It wasn't until 1993 when Kamakawiwo?ole recorded his infamous ukulele medley. It reached No. 12 on Billboard's charts 11 years later in 2004. Shimabukuro's ukulele version of "While My Guitar Gently Weeps" went viral in 2006 and has more than 12.5 million views.
Following the musical trend, Hudak gave Schilling a ukulele for her birthday last year.
"I'm pretty much a beginner," Schilling said. "I thought this would be fun to learn with other people."
U POP meets 5-7 p.m. the second Friday of each month at Atom Heart Music in Pullman and 6-8 p.m. the fourth Thursday of the month at the Simpson United Methodist Church in Pullman.
So far, the club has had about 10 to 12 members at each session, even though there are 21 people on their email list. Hudak said he gets inquiries on the club, or ukuleles in general, almost five times each week.
All ages are invited, with the request that those under 18 be accompanied by an adult. Hallett said their youngest player is an 8th grader, while their oldest is in their late 60s.
"It's not an intimidating thing," Hallett said, adding any level of player can join. "It's just a fun instrument."
Schilling said a general meeting includes chatting, tuning and playing basic songs. The group progressively moves to intermediate songs by the end of the meeting.
"The goal with the more advanced players is to make them into mentors for the people who are learning," Hallett said.
Hallett said the club's repertoire includes country, rock and roll, Hawaiian and folk songs.
"We want to find a couple (songs) we can really get down," Schilling said.
For more information on U POP, visit facebook.com/UkulelePlayersOfThePalouse.
Treffry can be contacted at (208) 883-4640 or ltreffry@inland360.com. Follow her on Twitter @LindseyTreffry.