Nearly 10 years ago, Maree McHugh was driving to her home on the Palouse when she tuned into what she called "the most fantastic radio show" on community wellness and the environment. She'd discovered KRFP.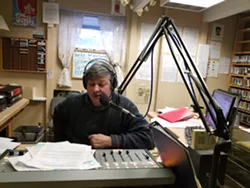 She had no idea that her voice would be heard regularly on the station before long.
Operated by Free Radio Moscow, KFRP is a listener-supported community radio station that serves Moscow and the surrounding area. It's annual fundraising dinner and auction is March 31 in Moscow.
The station began in 2001, when the FCC opened up a seven-day window in which groups could apply for low-power FM service. Its 90.3 frequency was granted, but it wasn't until three years later that the station was first broadcast from a small antenna on top of their downtown Moscow building.
Community radio is different from public radio, McHugh explained, which is different still than commercial radio. As a community radio station, KRFP is volunteer-driven and broadcasts news, views and music that represent the community but aren't otherwise represented in other media outlets or radio stations.
"It asks, 'What's important that's not being heard?' " McHugh said.
The station's programming is a mix of locally created shows, along with nationally syndicated shows that aren't broadcast on other area stations. Around 30 people currently serve as volunteer DJs for the station.
"What's so wonderful about the station is that people can come in and learn to be a radio DJ, learn basic reporting skills and journalism skills," McHugh said.
That's how McHugh -- who works full-time as a medical provider -- eventually ended up with her own show. After discovering the station, she learned a friend of hers DJ'd a show and came in to watch. When her friend left on a six-week trip, she asked McHugh to take over her show.
McHugh got the required training and took the show for a short time. She loved it so much that, a year later, she started her own show, with a focus on broadcasting people's stories. She currently serves as a board member and contributes to the popular "Morning Mix" that features a roundup of "pertinent local and regional news," she said.
The station works to involve anyone who is interested, McHugh said, even if all they have is the "seed of an idea" or want to remain behind the scenes. Some of the shows are interest-driven, like "Local Food Roundup" that features local food producers. Other shows have a more focused agenda, McHugh said, like "Wild Clearwater Country," which explores threats to Idaho's forests and wilderness areas. Some shows feature music genres -- like opera, the Grateful Dead or jazz.
"Over the years, there are hundreds of people who have sat at that microphone," McHugh said.
The station has one full-time paid position, held by Leigh Robartes, the station manager. One of the station's founders, Robartes has been involved in radio for most of his life.
From it's small beginnings of 100 watts from the top of a downtown building in 2004, Robartes guided the process to expand the station's signal, first at low power from the Idaho Public TV tower on Paradise Ridge in 2014 and, as of November 2017, at 1100 watts, which is considered full power. Each stage has significantly increased the area in which the signal can be received.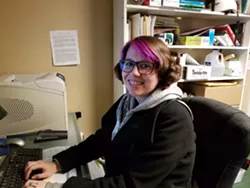 "Even in the age of the internet, FM radio is really important," Robartes said.
The station addresses "the lack of progressive perspective in media," Robartes said, and "empowers the community to make their own media."
Training volunteer DJs is a large part of Robartes' focus. All volunteers have to apply, go through training and pass a certification test that ensures they will uphold KRFP and FCC standards. The process also "gives them a voice" and teaches them how to keep a show flowing.
It costs $90 to operate the station for one day. In addition to the fundraising event, the station depends on pledges, underwriting, and its "Adopt a DJ" and "Pay for a Day" programs.
"People are incredibly generous," McHugh said. "We can't get bigger, so our commitment is to persist -- to be here for decades to come."
IF YOU GO
WHAT: KRFP's Real Radio Dinner and Auction Gala
WHEN: 6 p.m. March 31
WHERE: 1912 Center, 412 E. Third St., Moscow
COST: $40. Purchase tickets by March 27 at krfp.org, in Moscow at Tye Dye Everything and Wine Company of Moscow or in Pullman at Glassphemy and Atom Heart Music.
OF NOTE: The meal is catered by Black Cypress of Pullman, beer and wine bars open at 6 p.m., dinner is at 7, and the live auction begins at 8.