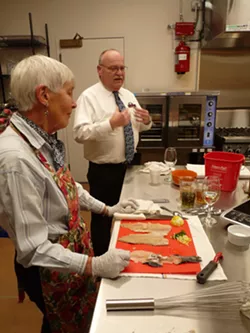 If there's anything likely to trip you up in the preparation of your Thanksgiving feast, it'll probably be timing.
That's what Jamie Callison says, and he should know. Callison has an extensive culinary background and is Washington State University's executive chef. Callison doesn't just offer a diagnosis, he's also got solutions that he'll share at "Secrets to a Stress-Free Thanksgiving," a class offered through the new culinary arts program at Artisans at the Dahmen Barn in Uniontown.
During the three-hour class, Callison will talk through tips on preparing turkey, gravy, cornbread stuffing, mashed potatoes and brussels sprouts, which participants will enjoy with a glass of wine at the end of the evening. Instruction is a combination of demonstration and hands-on learning; for this course, students are expected to know basic cooking skills.
Getting things done in advance to minimize what has to be done last minute contributes to a successful meal, and also gives the cook the opportunity to enjoy the day with friends and family, Callison said. The class will cover what can be prepared in advance and timing strategies for the day of.
The class is among the first offered at the new teaching kitchen at Artisans at the Dahmen Barn. Included in the newly built Loafing Shed, the space serves for both culinary instruction and food preparation for events held at the barn, said Leslee Miller, manager.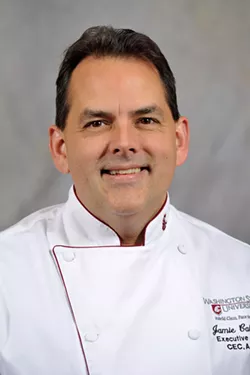 The culinary arts program will feature seasonally-themed topics taught by a variety of local instructors, including those with the Washington State University Hospitality program, chefs or bakers from regional restaurants or individuals with distinctive skills and achievements. Classes are generally held at 6 p.m. Wednesdays and can accommodate up to 24 students, though class sizes are sometimes limited for other purposes.
Since its opening, students have had opportunity to learn how to make an apple pie and acquired cooking basics from executive chefs Bill Jollymore and Aaron Jollymore while preparing fresh trout, roasted vegetables, green salad and poached pears. Future classes include holiday cookies and preparing a holiday prime rib and appetizers, as well as multi-session springtime courses on plant-based and gluten-free diets.
IF YOU GO:
WHAT: "Secrets to a Stress-Free Thanksgiving"
WHEN: 6-9 p.m. Wednesday
WHERE: Artisans at the Dahmen Barn, 419 N. Park Way, Uniontown
COST: $65/person. Register online at www.artisanbarn.org by Sunday. A discount is available for couples who register together; to receive the discount, call (509) 229-3414 or email shopatthebarn@lewiston.com instead of registering through the website.