In the Lewiston-Clarkston Valley and Moscow-Pullman, the eclipse begins at 9:12 a.m. Monday, reaches a deep partial eclipse at 10:27 a.m., and ends around 11:47 a.m.
Total solar eclipses happen every year on Earth but not three hours away.
On Monday, Aug. 21, America's eyes will turn to the skies for what's being called the Great American Eclipse because it's the first total solar eclipse visible only in the U.S. since 1776.
It's predicted it will be the most watched, photographed and studied eclipse in American history. A partial eclipse will be visible everywhere in the United States. In parts of Idaho and Oregon, a total eclipse will be visible within a roughly 70-mile-wide band where the moon will completely cover the sun causing darkness to fall and an array of other phenomenon.
In Lewiston, Clarkston, Moscow, Pullman and their surrounds, you'll need to use specialty eclipse glasses or viewers to gaze at the partial eclipse that will be visible. Inland 360 subscribers will find a viewing card in their Aug. 17 copy of Inland 360's print edition. If you don't have proper eye protection, NASA's website offers a variety of ways to look at the eclipse indirectly.
Whether you're planning on traveling into the path of totality, where massive crowds are expected, or staying home, here's a primer on what to expect.
2017 Eclipse Q & A
Q: What is the difference between a total eclipse and a partial eclipse?
A: There's a big difference. Monday, all of North America will be able to see a part of the moon cover the sun, a partial eclipse, but only within a roughly 70-mile-wide band that crosses 14 states will there be totality, where the moon slips completely over the sun for a brief period. This is the only place and time where the eclipse can be viewed with the naked eye. The closer to the centerline, the longer it lasts. If there are clear skies in the path of totality people will see phenomenon like shadow bands, the diamond ring and Baily's beads (descriptions below). Complete darkness will fall, the stars will appear, temperatures can drop up to 20 degrees and animals and insects may change their behavior.
It's literally a day and night difference between a total eclipse and a 99.9 percent deep partial eclipse. If you're one mile away from totality you'll miss all the total eclipse phenomena. The sun will be 94 percent obscured in the Moscow-Pullman area, 95 percent obscured in Lewiston and Clarkston and 96 percent obscured in Grangeville.
Q: Why are people predicting massive crowds, traffic gridlock and cellphone outages within the path of totality?
A: Yes, there's been talk of an eclipseocalypse.
Rat hole hotel rooms in rural towns that go for $50 any old day were booked for hundreds, even thousands of dollars, months ago for Monday. Many hotels and campsites in the path of totality were reserved years ago. People are renting out their homes for thousands of dollars. Those are the tourists that towns know are coming. And then there are the droves expected to try to roll in the day of.
Approximately 200 million people live within a day's drive of the path of totality. There are 47 million within a two-hour drive. The question is, how many of them will head toward the zone of totality? Some NASA representatives are predicting it will be one of the worst traffic days in U.S. history, according to USA Today. The West is recommended as one of the best places to watch the total eclipse because of historically clear skies. (Wildfire smoke could put a damper on things.) The Idaho Transportation Department is advising people to expect congestion and delays, consider carpooling, allow plenty of time for travel and plan a secondary route if possible. It also recommends people prepare for the trip with enough food, gas and water for more than a day as local resources may be expended or not immediately available. It also notes parking on roadways or in highway turnouts is not allowed.
Q: Why are total eclipses so rare?
For an eclipse to occur the sun, moon and Earth must align. The sun is 1 million miles across and is 400 times wider than the moon, but it is also 400 times farther away so they appear the same size from Earth. The moon's orbit is elliptical and tilted. During a total eclipse its orbital plane matches Earth's and it casts a shadow. Since most of the Earth's surface is water it often happens over the ocean where no one sees it (there are eclipse cruises if you want to). What's rare is for the shadow to fall over a specific area of land.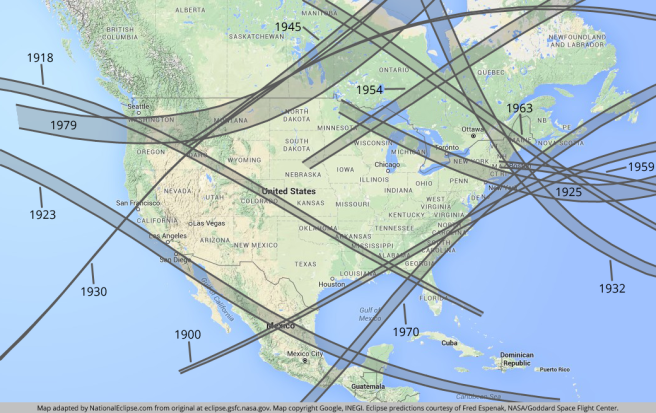 Phenomena in the path of totality
Those within the narrow path of totality will witness the following rare phenomena. The nearest town in the path is Cascade, Idaho. Estimates of the path of totality are not precise and some scientists are saying the northern and southern edges could be off by as much as half a mile.
Shadow bands: A few minutes before and after the total eclipse an array of faint, rapidly moving bands can be seen rippling over the landscape. Place a sheet of white paper several feet square on the ground for a closer look.
Baily's beads: As the moon covers the sun, beads of sunlight will illuminate the low valleys and mountains around the edges of the moon. It's named in honor of Francis Baily, who described the phenomena in 1836.
Diamond Ring: When only one bead of light is left from the sun, the eclipse looks like a shining diamond around the moon's silhouette.
Totality: The sky goes dark, stars and planets appear as if it is night. Temperatures drop up to 20 degrees.
Some area activities related to the Monday, Aug. 21 eclipse
PULLMAN -- Jewett Observatory at Washington State University will be open from 9 a.m. to noon Monday for free views of the partial solar eclipse. The observatory is located on the east side of campus along Observatory Drive.
AHSAHKA -- People are invited to a top-of-the-dam eclipse viewing experience Monday at Dworshak Dam and Reservoir.A portion of the dam's top deck will be open to visitors starting at 8:15 a.m. Eclipse-watchers are encouraged to bring solar eclipse viewing glasses, portable chairs and non-glass/non-alcoholic beverages. Capacity is limited to 100 people. Backpacks, purses, coolers or strollers will not be allowed on top of the dam. The viewing area adjacent to the Dworshak Visitor Center will be available for visitors with mobility issues and those exceeding the dam-top capacity. The duration of the partial eclipse, as it occurs over Ahsahka, is estimated to occur between 9:10 and 11:50 a.m.
SPALDING -- A free Solar Eclipse viewing event will take place Monday at the Spalding Visitor Center at the Nez Perce National Historical Park. The event from 9 to 11 a.m. will include a ranger-led solar eclipse presentation, live NASA eclipse feed, cultural demonstration and eclipse viewing. Kids will have an opportunity to earn a special Eclipse Junior Ranger Badge. The park will have eclipse viewers available for purchase. The center is 12 miles east of Lewiston at 39063 U.S. Highway 95.
CLARKSTON -- The Asotin County Library downtown branch will have an eclipse viewing event starting at 9 a.m. Monday. A limited number of eclipse glasses will be available for use.
MOSCOW -- The Latah County Historical Society will collect photographs, narratives and other items to tell the story of the 2017 solar eclipse in Latah County. Each donation should include a brief written history regarding the viewer's experience of the eclipse in the county to provide context to go along with the materials submitted. Materials in physical and digital format will be accepted for the collection. More information is available by calling the society at (208) 882-1004.
Check Monday's Lewiston Tribune and Moscow-Pullman Daily News for more eclipse viewing events.