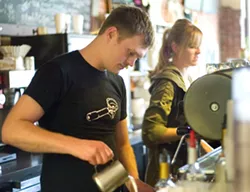 When your great-grandpa ordered a cup of coffee at a restaurant there were three options: black, sugar or cream.
Today coffee has evolved to lofty levels of artistry and a whole culture has formed around coffeehouses, those institutions devoted to our leisurely caffeinated, or decaf, or half-caf, drinking pleasure.
Every society has etiquette, spoken or unspoken, that makes life better for all involved, including coffeehouse society. The problem is not everybody knows it. Inland 360 asked two local baristas, Sara Pritchett, co-owner of One World Cafe in Moscow; and Dawn Abbott, owner of Blue Lantern Coffee House in Lewiston, what baristas wish every customer knew.
Buy something. Apparently some people think of coffee shops as indoor public parks with Wi-Fi. They're businesses. People buying drinks pays the rent and keeps the lights on, Abbott said. Don't bring in outside food or drink.
You wouldn't bring a meal into a restaurant and start eating, would you? No, because that would be weird and rude. If there's nothing you want to order to eat, eat beforehand or take your drink to-go.
Don't talk on the phone or text while ordering.
A human being in front of you should always trump your phone. Stop multi-tasking for a moment and offer your full attention.
"Being an independent coffee shop using local ingredients, we put a lot of love in our drinks. I encourage our employees to have interactions and know our customers' names. It's really nice when a customer reciprocates that," Pritchett said.
The people in line behind you will appreciate it too, which leads to the next rule ...
Be considerate of your fellow coffee drinkers.
People go to coffee shops to read, relax, study and visit with friends but they don't come to hear your Skype conversation or watch YouTube videos with you. Wear headphones when using internet audio or video. Also, if it's just going to be you, a small table and single chair will do. Leave the table for six for others.
Pick up your drinks at the bar and deposit your dirty dishes in the dish bin.
Coffee shop staff are typically devoted to drink making. Customers are expected to take their drinks to their table and pick up after themselves. This keeps drinks affordable, Abbott said. Look around, if you see a public garbage can and a bin with dirty dishes, those are meant for you.
Please ask questions about drinks, ask for recommendations and order what you want but don't get OCD about it.
Every shop has a different recipe for its drinks. If you want something exactly like your favorite chain coffee outlet makes that's probably where you should go. If you have preferences it's better to say less sweet or more sweet and let the barista practice his or her craft than to demand a "130-degree breve with two and a half pumps of chocolate and one pump of coconut."
Teach kids the rules of coffeehouse etiquette.
Some kids may find tips on voice control and wandering useful.
"I love having kids come in. I really enjoy it when kids order but as in any restaurant or public situation it's nice to use manners inside public places," Pritchett said.
If you're going to be there longer than a couple hours, order again.
Good coffeehouses strive to be welcoming, comfortable places. Wi-Fi, newspapers and board games invite you to stay awhile. Maybe this is why people often mistake them for their living rooms. There's no hard and fast rule about when to reorder, Pritchett said, but two hours is a good guideline.