UPDATE: Barbara Coppock's work will replace Marlys Seubert's in the show, according to a Valley Art Center email.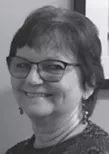 Valley Art Center's Black & White Show opens Friday, Jan. 6, at the downtown Clarkston gallery, 842 Sixth St., embracing the palette of the season.


The exhibit comprises black and white and monochromatic works by five Clarkston artists, with whom patrons will have an opportunity to socialize from 4-7 p.m. Friday during a free wine and chocolate reception.


"It's a great time to meet the artists and talk with them," Valley Art Center President Carol Triplett said.
The color scheme may be austeur, Triplett said, but the exhibit promises a lively assortment of art.
"This is going to be an exciting show of such a variety of mediums," she said, noting the works are monochromatic — "with spots of color."


The artists, all members of the nonprofit center, include Alison Oman, pastels; Lindsay Shewey, scratchboard; Marlys Seubert, quilling; Jodee Maiorana, encaustic; and Alyssa Hopkins, multimedia. Their art will be for sale, with the public able to take home purchases after the show ends Jan. 28.
Valley Art Center is open 10 a.m. to 4 p.m.Tuesdays through Saturdays. More information is at
lcvalleyartcenter.org
.