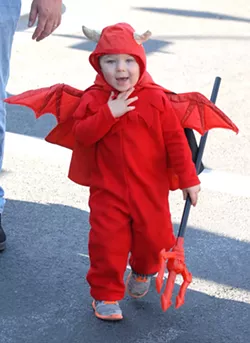 Whether it's witch's brew or German brew being ladled out, fall celebrations are in full swing. Here's this week's forecast of spooky and tasty activity. Next week's roundup will feature Halloween weekend.
LEWISTON
The Clearwater Corn Maze at Lewiston Community Park is open throughout the weekend and features hayrides with storytelling and performances Friday and Saturday night. Lewiston High School students will present "Hayride to Sleepy Hollow" from 6:30 to 9:30 p.m. Friday, Saturday and Oct. 31. Hayrides, $3, will leave regularly from the parking lot at Potlatch No. 1 Federal Credit Union, 1015 Warner Ave. The event is sponsored by the Lewiston High School Safe and Sober Committee. Corn maze hours are 6-10 p.m. Fridays and Halloween; noon to 10 p.m. Saturdays; and noon to 5 p.m. Sundays in October. Admission is $6 per person, kids 4 and younger are admitted free.
Downtown Lewiston's fifth annual Pumpkin Palooza is Saturday and features Main Street Trick-or-Treat, the Great Pumpkin Roll, a Costume Parade and more. Taking place from noon to 5 p.m., the festival will also include Lewiston Farmers Market vendors, free children's crafts and games and a jumping castle. -Noon to 2 p.m. — downtown businesses and students at Lewis-Clark State College's Clearwater Hall dorm will hand out candy to trick-or-treaters. -Noon to 4:30 p.m. — At the Great Pumpkin Roll on the Fifth Street hill those who successfully roll their pumpkin from the start line through the finish line chute will be entered into a drawing for a $500 cash prize. Tickets are $5 per roll or $10 for three rolls. -2-3 p.m. — A Costume Parade with prizes is new this year. Participants can sign up in advance at the Fourth Wall Gallery in Morgans' Alley or at the information booth at the festival from noon-2 p.m. Saturday. Participants will assemble for the parade at 1:45 p.m. at Morgans' Alley. Prizes will be awarded for Youth Individual, Adult Individual, Family, Group/Team, Spooky Pooch (animal) and People's Choice. People's Choice ballots will be available at various downtown businesses. - 3 p.m. — The LC Valley First Responders Chili Cook-off is across from Towne Square. -4:30 p.m. — An awards ceremony for winners of the costume contest, pumpkin roll and chili cook-off at the corner of Main and Fifth streets.
The annual Haunted Hayride returns to Hells Gate State Park Saturday. Gates open at 6 p.m. with hayrides to spooky sites around the campground beginning shortly after. The family-friendly event will also feature music, a bonfire, hot cocoa and other refreshments for sale in the day-use area. There is a $5 entry fee per vehicle and a $1 admission charge per person for the hayride.
ASOTIN — The second annual, all ages Trick-R-Trunk is 4 to 8 p.m. Saturday at the Asotin County Fairgrounds with trick-or-treating, Haunted Barn tours, costume contests and a Pumpkin Derby. Admission is free. People will hand out candy to trick-or-treaters from their decorated vehicles during the event. Activities include a bounce house, fish pond, face painting and pumpkin ring toss. Warm-up areas will be located inside buildings. A Haunted Barns tour is from 4-8 p.m. Admission is $2. The Pumpkin Derby featuring homemade pumpkins built to race starts at 5 p.m. on the Main Stage. Pumpkins will be on display starting at 4:30 p.m. A costume contest for different age groups is at 6:30 p.m. at Floch Hall. People interested in bringing their vehicle to distribute candy can call Peggy Hansford at (208) 791-1451. Electricity is available on site to plug in lights.
CLARKSTON — A Boo Bash is from 6-8 p.m. Sunday at the Asotin County Family Aquatic Center. The annual kids carnival and spooky house is designed to be a fun and not scary family event. There will be games, trick-or-treating, prizes and a costume contest. Admission is $3.50 per child. Adults are admitted free.
MOSCOW
Bratwurst, sauerkraut and other German dishes will be featured at Oktoberfest 2014, 2-5 p.m. Saturday at the 1912 Center. Bread, hot German potato salad, German beer and wine and dessert will also be served. There will be live music and a raffle. Admission is $12 for adults, $6 for children ages 4-10 and free for children 3 and younger. The event benefits the Lutheran Campus Ministry at the University of Idaho. The center is at 412 E. Third St.
The classic cult film "Rocky Horror Picture Show" will screen three times each night Friday and Saturday. Showings are at 7 p.m., 9:30 p.m. and midnight at the Kenworthy Performing Arts Centre, 508 S. Main St. Admission is $12 and includes a prop kit. No outside props will be allowed. The event is sponsored by Sirius Entertainment. Tickets are available at www.SiriusEntertainment.org and at the Kenworthy box office the night of the show.
The seventh annual Animals of the Night educational fundraiser is 5-8 p.m. Saturday at the Palouse-Clearwater Environmental Institute Nature Center. The event will feature local animal experts, hands-on learning activities, crafts and music. Non-member admission is $6 for adults and $4 for children at the door at 1040 Rodeo Drive or online at www.pcei.org.
PALOUSE — Palouse gets very scary the next two weekends for the 13th annual Haunted Palouse, strictly for ages 12 and older. Two haunted houses, a haunted hay ride, photo booth, freaky food vendors and other chilling attractions are highlights of the downtown event from 7-10 p.m. Friday, Saturday and Oct. 31-Nov. 1. People are advised to dress in warm clothes. Tickets are $15 (cash only) and will be sold between 7-10 p.m. near the drive-through area of the Palouse branch of AmericanWest Bank, 150 N. Bridge St. More information is available by calling (509) 595-1129 or online at www.visitpalouse.com.
GENESEE — St. Mary's Genesee Harvest Festival is from 11 a.m. to 5 p.m. Sunday at the Genesee Fire Hall. Genesee sausage, oven-roasted turkey dinner and homemade pie will be served. A Country Store will offer holiday items, fresh-baked goods, produce, seasonal decorations, handmade goods and more. Admission is $10 for adults and $5 for children ages 5-12. The hall is at 132 E. Walnut St.
COTTONWOOD — Home-brewed beer and cider are on tap at the sixth annual Brats & Brew Fest Saturday night at Cottonwood Community Hall. The event is for ages 21 and older. Beer and cider tasting start at 5 p.m. Food tasting — sausage, homemade sauerkraut, bread, dessert and more — starts at 6 with live music by the Coffey Twins & the Satins at 9. There will be a live and silent auction. Tickets are $25 at the door. The event is sponsored by Prairie Community Library.
OROFINO — A Halloween Party and Potluck is 6 p.m. Wednesday at the Teweepuu Community Center. All are welcome. The center is at 3402 Highway 12. More information is available by calling (208) 476-7407.