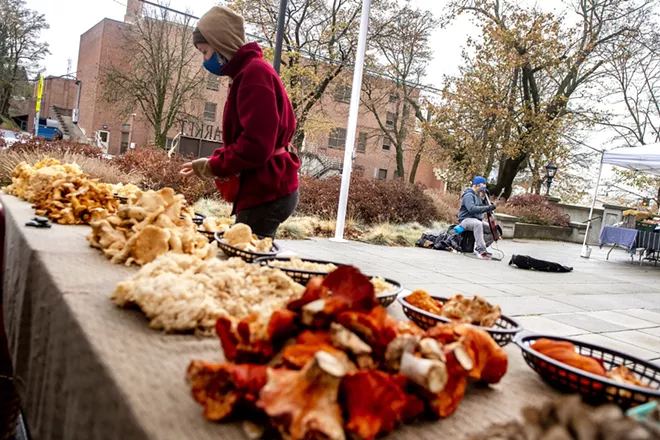 Moscow's Winter Market serves a dual purpose this year: to showcase both local artisans and the second floor of the event's home, the 1912 Center, which opened in January.
The market's 17th season runs from 9 a.m. to 1 p.m. Saturday (Nov. 6), Nov. 13, Dec. 4, Dec. 11, Feb. 5 and March 5.
A key difference this year will be the return of concessions.
"Last year we weren't able to have food because of the pandemic," Moscow Heart of the Arts Executive Director Jenny Kostroff said.
This season, people can purchase food in to-go boxes to take home or to areas in the center designated for eating.
Saturday's featured food is by SushiMan, and the Nov. 13 market will see German-inspired fare from StoutKraut.
What started with a baker's dozen vendors now includes more than 100 total booths over the course of the market season, with more than 30 on site each Saturday it operates, Kostroff said.


A perennial favorite, Tonnemaker Hill Farm, from Royal City, Wash., returns with seasonal produce such as apples and squash. A sort of "anchor vendor" for the market, the farm has been participating for more than a dozen years, Kostroff said.
Wares from other vendors include jewelry, pottery, photography and paintings.
The December markets will feature holiday items, including what Kostroff described as "scrappy little trees that come from the forest — kind of like Charlie Brown Christmas trees" from Fiddler's Ridge Farm in Potlatch, as well as amaryllis bulbs.
IF YOU GO
WHAT: Winter Market.
WHEN: 9 a.m. to 1 p.m. Saturday, Nov. 13, Dec. 4, Dec. 11, Feb. 5 and March 5.
WHERE: 1912 Center, 412 E. Third St., Moscow.
OF NOTE: Food vendors will be on site, with designated areas in the center for eating.