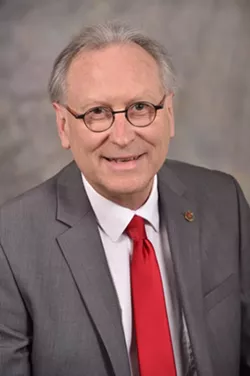 Washington State University Professor Greg Yasinitsky's name has been entered for the Pulitzer Prize in Music for his "Jazz Concerto for Piano and Orchestra," according to a WSU news release.
Yasinitsky is director of the university's School of Music. His composition was premiered in January by the Baton Rouge Symphony, conducted by Timothy Muffitt with soloist Willis Delony. Muffitt and Delony submitted the nomination with Muffitt noting, the Concerto "is a unique work in the American orchestral canon and most deserving of recognition," the release stated.
Pulitzer Winners and Nominated Finalists will be announced April 16, 2018. Entries are being accepted through December. According to the Pulitzer's website, people are discouraged from saying they were "nominated" for a Pulitzer simply because an entry was sent in. The Pulitzer Prize Board generally chooses winners from the three nominated finalists in each category. Those finalists are announced with the winners in April.
Recent commissions for Yasinitsky include "Partial Eclipse" for the 25th anniversary of the Las Vegas Academy and his arrangement of "Creepin'" for an upcoming recording by the Colorado Repertory Jazz Orchestra featuring the music of Stevie Wonder. Active commissions include a new work for saxophone and piano for Vanessa Sielert, director of the Hampton School of Music at the University of Idaho a new piece for jazz band to celebrate the tenth anniversary of the Jazz Education Network, the most important academic organization for jazz.