What if anytime a mustached man met another mustached man in public they had to fight, to the death?
That offhand joking question between friends spawned the idea for 31 Fisticuffs: A Boxer/Band Mashup taking place Friday, Sept. 13, in Moscow. No one will fight to the death, but mustaches will be sacrificed at the event uniting 1920s-era style with pugilist boxing and rock music at the American Legion Cabin in Moscow.
"This is a theatrical performance piece — vigorous performance," says organizer Jozef Mikler III, an English teacher at Montrose Christian Academy, who has grown his mustache to a length that lives up to the theme "without scaring any parents."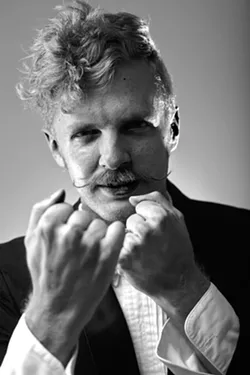 A single light bulb will hang from the ceiling over the wood floor of the cabin's basement where the mustached men, dressed in seersucker suits, tuxedoes, and other formal wear, will face-off. Only one mustache will be left standing. The loser of each match will have his mustache shaved off by a professional barber on the spot. Following the spectacle, bands will perform, including: the Kitchen and Those Bones of Moscow; Random Noise of Pullman; and Astronaut and the Trees of Lewiston.
After throwing several theme parties for friends, Mikler says he realized he was skilled at organizing large social functions. He decided to make 31 Fisticuffs, his 31st birthday party, a public event. His past parties include a hobo party for poor college friends where he set up a 50-gallon drum with a fire and people wrote poems about being broke, broken down and broken hearted; and an Easter celebration with hors d'oeuvres like lamb pâté and kabobs, a deejay and fireworks at dawn. Mikler is considering making his 2014 Easter celebration open to the public. He believes it's an underrepresented holiday.
"It's an updated version of my grandparents' supper club," Mikler says about his parties. Where his grandparents' generation may have liked supper clubs, his might like "a black light dodgeball tournament."
Mikler had professional photographs of the boxers taken and advertised Fisticuffs with handbills. Fisticuffs will be catered and have a no-host bar for those with ID. People are encouraged to come in vintage costume. There are no age restrictions for attendees because Mikler is a fan of having people of all ages at his events.
"It's socially stilted and unhealthy as a community to split-off," he says.
Mikler grew up in Florida. After high school he says he randomly chose a college to attend. It happened to be New Saint Andrews College in Moscow, which he knew nothing about.
"I really appreciate a lot of things I got out of it, but they're probably not going to put me on the brochure," Mikler says.
Along with teaching and side jobs as a janitor, Mikler is forming a new business that aims to crowd source dream parties through his website publicschool.co. He says people who pay a monthly subscription will be guaranteed one big party each month, plus other social events like swimming or pumpkin rugby.
He thinks a small town like Moscow is ripe for events like Fisticuffs because the only other competition is sitting on your porch and drinking.
"Living in a small town confers responsibility on you to make stuff happen," he says.
if you go WHAT: 31 Fisticuffs: A Boxer/Band Mashup WHEN: 8 p.m. to midnight Friday, Sept. 13 WHERE: American Legion Cabin, 317 S. Howard St., Moscow COST: $10 in advance, $13 at the door TICKETS: Available in advance at The Storm Cellar and Deadbeat Records in Moscow and Atom Heart Music in Pullman.