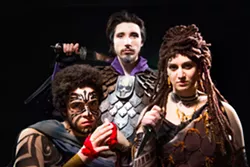 It may be Shakespeare, but "Titus Andronicus" features no star-crossed lovers or thoughts on the long-standing dilemma of being or not being.
The play opens tonight at the University of Idaho and we talked to director Matthew Brumlow to find out about the violent and lesser-known classic.
Why you might be familiar with the play:
Brumlow: It's one of Shakespeare's earliest plays … and it was the most popular play at that time in terms of commercial success.
Why you've probably never seen it:
Brumlow: It's Shakespeare's bloodiest and most brutal play. It wasn't done for many years because people thought it was sensational, unrealistic or too gruesome. It's being done a lot more now because people are realizing that the world actually is this brutal.
On Elizabethan theatrical trends and violence:
Brumlow: There was a popular form of theater called revenge tragedy. All of these followed a certain form, including the violence. People loved them because they were outrageous. A young Shakespeare who wanted to make a splash, and also pay the bills, says, 'I'm going to write a revenge tragedy that outdoes all the other revenge tragedies. I'm going to turn it up to 11."
Current examples of a revenge tragedy:
Brumlow: "Kill Bill" is a good example. You've got one character who is like, 'I'm going to get them all back."
But you say this is about more than just revenge?
Brumlow: Shakespeare didn't stop there, he started to explore the human condition -- why do people pursue vengeance and what is the cost to that?
Why you might want to see it:
Brumlow: This play puts up a rather blunt mirror and asks us to look at things we really don't want to look at. I see that if I'm honest with myself, I'm not too different from these people.
Yeah … but Shakespeare?
Brumlow: It's hard to make Shakespeare make sense sometimes. But it's the language of the soul in a lot of ways. Of all his plays, this one's not boring. It's gritty, real, raw, juicy. I think people will be surprised.
IF YOU GO:
WHAT: "Titus Andronicus"
WHEN: 7:30 p.m. today, Friday, Saturday and Feb. 9-11, 2 p.m. Sunday and Feb. 12
WHERE: Hartung Theater, University of Idaho, Moscow
COST: $15/general admission, $10/seniors, UI faculty and staff, free for UI students; tickets available at the door or in advance at BookPeople or at (208) 885-6465
NOTE: This show contains violence, adult language and situations and is not recommended for children.