Imagine going to a slumber party only to find out some of your favorite local artists will be there to exhibit their work. Then add some musicians, food and turn your space into a hotel.
Now you've got an idea what to expect at the fourth annual Art Affair, which takes place Wednesday in Moscow.
"It's like a slumber party for artists," said Heather Woolery-Larsen, a coordinator for the event and participating artist.
No, no one is in their pajamas and there won't be prank calls made amidst a gathering of giggles, but the event has the same fun-times-with-friends vibe. At Art Affair, the "friends" are more than 20 local artists who will exhibit a wide range of creative media, including photography, sculpture and performance art, each in a room in the hotel.
"We wanted to create an event where artists can get together and make a unique space together," Woolery-Larsen said.
The venue is both more casual and intimate than the typical gallery. Each room will feature a different artist -- though sometimes artists with smaller work, like jewelry, will share a room. Performance artists will be reading, singing or acting in their space while people wander through the event and visual artists will have their work on display -- creatively so, since no holes can be put in the wall.
"It's something people look forward to," Woolery-Larsen said.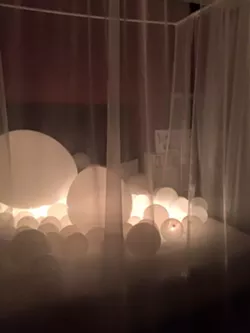 The one-night, family-friendly event is free for all ages and takes place mid-week to allow those with busy summer weekend schedules to attend. It also lends the event a festive air. Artists will mingle among the guests and fellow participating artists, many of whom are friends and don't normally get to exhibit together.
"We have a lot of fun with it, that's the beauty of it," Woolery-Larsen said.
Additional participating artists include Kevin Haas, Iris Mayes, Joshua Hust, Mollie Patterson, Nara Woodland, Lauren McCleary, Karen Rohn, Sally Machlis, Delphine Keim, Rachael Eastman, Thad Froio and James and Lindsay Mammone. Food from The Grub Truck and wine from Nectar will be available for purchase.
IF YOU GO:
WHAT: Art Affair
WHEN: 5 - 9 p.m. Wednesday, July 19
WHERE: Fairfield Inn & Suites, 1000 W. Pullman Rd., Moscow
COST: Free