As the dogwoods begin to bloom, the 34th annual Art Under the Elms kicks off Friday in Lewiston.
The event includes a wide range of activities, including performances, arts and crafts, games, tea parties, painting parties and more, along with plenty of food to carry you through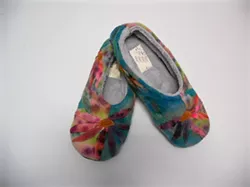 the day's fun.
At the heart of the event is the Artisan Green, where more than 80 artisans will gather to show and sell handmade goods, including fine art, jewelry, pre-packaged foods, woodwork and more. Among the artisans is Victoria Gray, who can hook you up with cozy slippers that are new with a bit of old mixed in. Here's more about Gray and her creations:
Artist: Victoria Gray with The Bag Ladies of Sequim
From: Sequim, Wash.
Products for sale at Art Under the Elms: Purses, small handbags, coin bags and slippers -- including cowgirl boot slippers -- made from recycled clothing and blankets
Cost range: $16 to $175
Materials: "I get my raw goods from thrift stores," Gray said, via email. She uses cashmere, wool and alpaca garments. "I found that upcycled wool from wool blankets and wool coats worked best for felting (shrinking) the wool."
Recycling process: Fabric items are dismantled and then felted down using the "boiled wool" method of felting. The fabric is hand-dyed and felted down again before being cut into the pieces used to create the final product.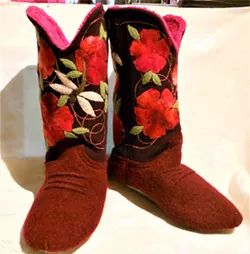 Product features and details:
Fabric scraps are used for appliques. Bead work and embroidery -- all done by hand -- add decorative touches. Shoulder straps often are repurposed belts or crocheted using yarn from sweaters that have been unraveled. All handbags and coin bags have a radio-frequency identification blocking liner (RFID) that
Five Things to Find at Art Under the Elms (Besides Art)
1. Frozen New York Cheesecake, a new offering from Deeney's Ice Cream of Lewiston in the food court. The cold sweet treat costs $6. A variety of foods will be available for purchase at various booths, including fresh, local fruit from Clarkston's Wilson Banner Ranch.
2. Some new weaving techniques, which you'll learn at a demonstration by McCall's David Egnatz on his travel loom. You'll find him and other artisan demonstrations at Center on the Green, an interactive art tent in the Artisan's Green.
3. Bart Budwig, of Enterprise, Ore., and his guitar, along with Ben Walden. The two will play country and folk style music 12:30 to 2 p.m. on Friday at Center on the Green. Performers will play on this outdoor stage and at the SUB amphitheater throughout the weekend.
4. A bouncy castle, which kids can hop around in to their heart's content. This and a number of other activities and crafts are included free of charge with admission. The Tea Fairy Tent offers five 30-minute tea parties, included with admission, on Saturday and Sunday. Sign up when you arrive to reserve your spot.
5. Community Row, which will connect you with various non-profit agencies in the area. Play games as you find out about what these groups are doing and how you can get involved.
IF YOU GO:
WHAT: 34th annual Art Under the Elms
WHEN: Noon to 7 p.m. Friday, 10 a.m. to 6 p.m. Saturday and 10 a.m. to 4 p.m. Sunday
WHERE: Lewis-Clark State College campus, 500 Eighth Ave., Lewiston
COST: $3 for weekend admission to the Artisan Green, Dogwood Tea Fairy Tent and Family Fun Fair. Admission is free to the food court and musical performances at the Student Union Building Amphitheater.