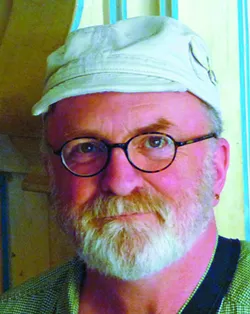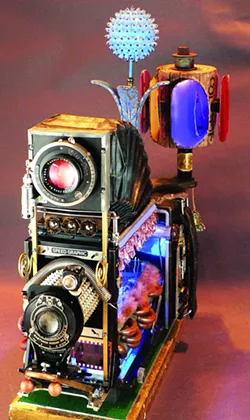 Larry Ellingson never bothered to sign up for another art class after a junior high school teacher told him he had no artistic ability. This didn't stop his urge to create.
After a career in audiovisual, the 64-year-old Spokane artist began turning lost and found objects into colorful, detailed sculptures with lights, sound and movement.
Education: At his family's Spokane business, Inland Audio Visual, Ellingson learned electronics by using projectors and producing large-scale slide shows with original music he composed and played. "I know everything there is to know about programming slide projectors. It's a little bit like being a buggy whip expert."
First work: He painted a wooden egg for his wife and glued rusty objects to it. It looked boring, so he set it on fire and painted more. "That was fun," he says of "Post-industrial Egg." Influences: Modern art, Joseph Cornell, Pullman artist Jack Dollhausen, Spokane artist Dan McCann.
Message: He's been told his work is hard to penetrate in a short amount of time. "I like the idea of having to spend more time. I do like to draw people in and then give them some things to find once they're there. I do find that guys tend to like my art a lot. They'll look at the details, if there are tricks with mirrors they'll try to figure it out. They have a lot of comments too, but they don't talk to me like it's art ... it's a thing they find interesting."
Muse: After recent travels through Tibet and India, Ellingson ruminates on how cultures tend to meld and innovate as they move forward.
Workspace: A studio called "the perch" built over his home's former upper deck, which gets lots of sun and has "lots of places for me to hang my junk." He started selling work when he ran out of room.
if you go Ellingson will give an artist's talk at 9 a.m. Friday, May 17 at Moscow City Hall, 206 E. Third St., where his work is on display through May 24 at the Third Street Gallery. Gallery hours are 8 a.m. to 5 p.m. weekdays.