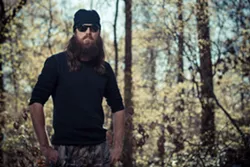 A&E's hit reality show "Duck Dynasty" features the Robertsons, a family of bearded, camouflage-clad outdoorsmen running a duck-call business in Monroe, La.
Their priorities, "faith, family, ducks," and their earthy sense of humor, struck a national chord, and the clan was propelled to unexpected fame after the series first aired in 2012.
Members of the Robertson family tour the country talking about their Christian faith, family values and success. On Sunday, Jase Robertson will speak at the Clearwater River Casino Event Center outside Lewiston at a benefit for Life Choices Clinic of Lewiston, a nonprofit group that offers free education and resources to women with unplanned pregnancies. His talk is titled "Beards and Babies." The event will include live and silent auctions. In honor of his visit here's five Jase quotes from "Duck Dynasty":
1. "You can talk any redneck into a challenge. That's why so many rednecks die in strange ways."
2. "Where I come from, you don't mess with another man's woman or his hat."
3. "When you don't know what you're doing, it's best to do it quickly."
4. "Where I come from, your truck is an exact reflection on your personality."
5. "I've been showing up late and dirty my whole life."
if you go What: Jase Robertson on "Beards and Babies" When: 4 p.m. Sunday, doors open 3 p.m. Where: Clearwater River Casino Event Center, outside Lewiston Cost: A limited number of $35 tickets are available at His Story Christian Gift Center and Life Choices Clinic in Lewiston.