By Jennifer K. Bauer jkbauer@inland360.com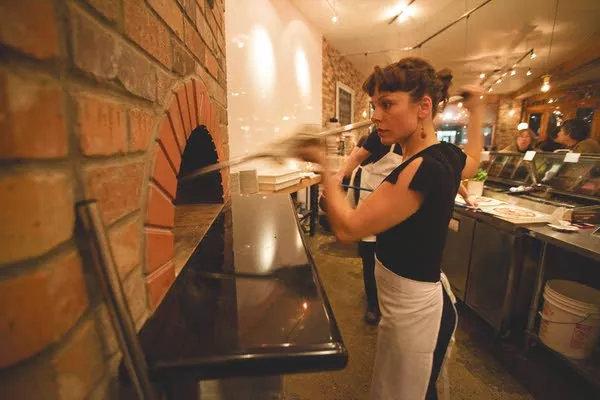 As owner of two successful Moscow restaurants, Sangria Grille and Maialina Pizzeria Napoletana, Carly Lilly is a self-taught chef who believes the most important ingredient is a connection between farm and table.
When you know the farmer who grew your food, the vibrancy and wholesomeness is second to none, said Lilly, who spends a large part of her time reaching out to growers, farmers and ranchers to establish relationships that will work for both sides.
"As a restaurant, we serve hundreds of meals per day. We are in the unique position to play our part in connecting the community to local food," Lilly said. "Working with ingredients that are grown by people we love, that are also nutritious and beautiful and seasonal, is truly one of my life's pleasures."
Lilly started with a love for cooking and learned the trade on-the-fly while working under others, traveling and, of course, eating. We caught up with her by email to find out more about her passion.
Full Name: Carly May Lilly
Age: 36
Hometown: Moscow
Culinary background/training: Self-taught
Past restaurants: Worked at Inka Grill in California, 2001-03. Opened the Moscow restaurants Sangria Grille in '04 and Maialina in '13.
Other culinary projects: Figuring out ways to source ever more local and organic foods for both restaurants. This very much is culinary work, though it is not chopping, braising, sautéing, or preserving. It is a part of the cooking process I believe to be the most essential, a cornerstone of our kitchens. These are producers who care about our soil, our pollinators, their animals and the nutrition of the community. Generally, in our country's food culture, we have forgotten where our food comes from, how to forge these bonds, these alliances. We are used to uniformity, to freightliners, to packaging, to eating the exact same foods all year-round. It is not always the easiest, the most convenient, or the cheapest but it is by far the most satisfying, enriching and rewarding part of my job -- not to mention the tastiest.
Primary cuisine and flavors: Maialina is rustic Italian. The flavors are bright and range from simple to robust.
Most popular dish at Maialina: Definitely the meatballs. We buy whole, locally-raised hogs and make them with that ground pork and fire them in the wood oven. They are just delicious.
Personal favorite dish at Maialina: The seasonal antipasti. It is an appetizer that changes all the time, but is always made with some cured meats, homemade mozzarella and homemade pickles tossed in olive oil and vinegar with fresh parsley. I love it because I love our mozzarella, the pickles are whatever vegetable happens to be growing locally, and little seasonal pretty things like spring pea vines or chive or squash blossoms always go perfectly in it.
Favorite meal to prepare at home: Chicken soup. I love the methodic nature of the process. Gently simmering a quality chicken, chopping the vegetables, cleaning the meat from the bones, cracking the pepper, getting the salt just right, ladling delicate, clear broth with supple tender meat and just cooked vegetables into a simple white bowl and tasting all the flavors in complementary balance. It's just a simple, cozy, nourishing meal that is a staple in so many homes all across the world. I always feel happy when that's been my dinner.
Most difficult dish you've ever attempted: Perfecting the Tres Leches Cake recipe, one of the desserts at Sangria Grille. Making the almond cake in such a way that it can withstand 12 quarts of boiling, sweetened milk being dumped into it and still have loft, a non-mushy crumb, and a springy, firm constitution once chilled and cut -- but also making the recipe so bulletproof in technique that our other cooks, not just me, can make it perfectly every time.
Advice for home chefs: Try cooking with different (seasonal) things. Simple is better. Less is more. Cook in a way that makes you happy, not stressed out. Don't be afraid to Google it.
Trick of the trade you use the most: A very simple trick, but probably the way I salt, salting things always from a salt bowl, never from a shaker. Use a three finger pinch held from 6 to 12 inches above the food to be salted.
Current favorite or most often used ingredient: Probably fresh organic lemons. They are so good for you. They can be used in everything from desserts to meats, salad, fruit, smoothies and chicken soup. Juiced, zested, or preserved.
If you could only use five tools from your kitchen they would be: My 10-inch chef knife, the honing steel, the microplane, my 3-quart copper saute pan, pepper grinder.
Favorite specialized kitchen tool/gadget: Immersion circulator
New ingredients you're using or playing with right now: Dandelion greens