A lifelong artist and longtime Colfax resident, Molly Rice is opening her first solo exhibit Saturday at the Colfax Branch of Whitman County Library.
The exhibit runs through March, with rotating content that includes art on paper and canvas, photography and handcrafted paper. We caught up with Rice to find out more about her creative way of life:
Artistic media: Everything. "I'm always trying to repurpose something," Rice said.
Besides traditional art materials, her work includes a wide range of natural materials like onions, daffodil petals and dried kombucha scobies.
Style: "My art is kinda far out there," Rice said. "I can do realistic stuff, but it doesn't bring me the joy that it is to let whatever wants to come out, come out."
Studio space: "It's a room off my kitchen -- I have my herbal stuff in there too," said Rice, who also practices wildcrafting and natural healing.
Artistic background: "My art has been a big part of my life from the time I was little," she said. "I don't have a degree, but every place I've lived, I've tried to take a couple of classes."
Interruptions:
In 1998, Rice suffered a concussion in a head-on collision. She was still able to function, but the injury affected both her artistic and clairvoyant abilities, she said. "Art had always been my go-to when I've needed to calm down, and I couldn't do it." After two years, that changed. "I'll never forget the day, I was standing in my living room and it was like a curtain lifted," Rice said. Even though it was a relief, there was a "heavy, lingering fear" that she had permanently lost her ability to create art. She worked through her fears, though it took time to regain the abilities that had once come naturally.
On the decision to pursue art: Rice worked in commercial landscape design in the region for a number of years, but eventually had to stop because it became too physically taxing. "So I asked myself, 'Molly, what have you always wanted to do?' Well, it's my art."
Art and spirituality: Among the pieces in the show are portal drawings, which are both an artistic and spiritual practice. Rice begins with an outer shape and then "whatever comes forth, comes forth." Several years ago, she started doing her art in connection with the new moon, sitting down with pen, ink and paper. Rice, an energy worker and reiki master, said, "I always had healing energies in my hands." She found when she sat down to create the portal, "I was actually channeling some energies." The portals have often "just kind of done it themselves," Rice said. "If I tried to control it, I got blocked and had to stop."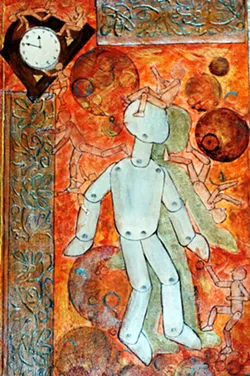 Inspiration:
In addition to the spiritual world, Rice finds much of her inspiration outdoors, whether she is taking photos, wildcrafting, gathering herbs or gathering materials for paper.
On her handcrafted papers: "When my kids were little, I used to make paper using junk mail," Rice said. She recently returned to the practice using dried plant material gathered from her yard. She has since expanded her efforts, experimenting with papers made from things like pine needles, cattails, hornet nests and dandelion fluff. She soaks the materials in vinegar and washing soda before processing them in a blender. "I burnt out a couple of blenders," Rice said laughing. Now she tries to buy them secondhand.
On her artistic calling: Whether it's in her yard, with needle and thread, decorating her house, or painting a canvas, Rice is always creating. "It's the voice of my soul," she said. "It's always been important to me to be doing something creative."
IF YOU GO:
WHAT: Multimedia exhibit by Molly Rice
WHEN: An opening reception is 5 to 7 p.m. Saturday.
WHERE: The Center at the Colfax Branch of Whitman County Library, 102 S. Main St., Colfax
COST: Free
OF NOTE: The exhibit continues through March. Library hours are 10 a.m. to 8 p.m. Mondays through Wednesdays, 10 a.m. to 6 p.m. Thursdays and Fridays and 1 to 5 p.m. Saturdays and Sundays.