April 21
PULLMAN — Kaha:wi Dance Theatre, a First Nations company based in Toronto, will perform its signature mix of indigenous and contemporary dance at 7:30 p.m. Friday in Washington State University's Jones Theatre here.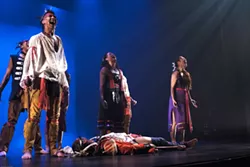 The highlight of the performance will be "The Honouring," a production paying homage to First Nations warriors of the War of 1812 who sacrificed to protect Haudenosaunee (Iroquois) sovereignty, culture and land, according to a news release. Scenes are performed around glowing fire pits against a continuous backdrop of images ranging from scenes of domestic life to the battlefields.
Reserved seating costs $22 for adults, $18 for non-WSU students and $16 for those age 15 and younger.
Tickets are on sale at TicketsWest outlets, including online at TicketsWest.com, by phone at (800) 325-SEAT and in person at Beasley Coliseum in Pullman and Rosauers in Lewiston. The Beasley ticket office is open from 10 a.m. to 2 p.m. weekdays. Fees will be charged on all purchases except those made at Beasley. Tickets can also be purchased through the Festival Dance and Performing Arts office by calling (208) 883-3267.
The company also will perform an excerpt from the full-length production "Kaha:wi," which celebrates traditional Iroquoian song, dance and symbolism through contemporary dance expression paired with award-winning original music.
April 22
MOSCOW — The 21st annual Hemp Fest, with the theme of "Plant a Seed, Start a Revolution," is 10 a.m. to 7 p.m. Saturday at East City Park here.
The free event features information and speakers about the uses of hemp, as well as food and arts and crafts vendors.
Speakers will include Bill Esbenson, spokesman for the Idaho Medical Marijuana Association, and Kobe Konrad, director of the Green Majority of Idaho, will provide information about a petition movement in Idaho to recognize medical marijuana. Other speakers include Steve Phun of Seattle; Serra Frank of Boise, director of the Boise Hemp Fest; and Adam Assenberg of Colfax, a medical marijuana patient.
Live music performers throughout the day include Ayo Dot and the Upper Cuts of Seattle, ska/hip-hop; Landrace of Tri-Cities, ska; Naughty Pine of Tri-Cities, reggae; Charcoal Squids of Missoula; Joseph Hein Band and Mother Yeti, both Moscow rock bands; and Voodoo City Radio of Moscow, blues/rock.
The park is at 900 E. Third St.
April 22
MOSCOW — Authors T.J. Tranchell and Myrna Oakley, both of Moscow, will give presentations at 2 p.m. Saturday at BookPeople of Moscow.
Tranchell will read from his debut novel "Cry Down Dark" and answer questions about self-publishing books. He holds a master's degree in literature from Central Washington University in Cheney and is a journalism adviser at the University of Idaho in Moscow. Tranchell also writes periodically for 360.
Oakley will share examples of her travel writing on the Pacific Northwest and answer questions about travel writing. She has written more than a dozen guide books about the Pacific Northwest including "Recommended Bed & Breakfasts Pacific Northwest" and "Northwest Public & Private Gardens."
Both authors will sign copies of their books.
BookPeople is at 521 S. Main St. in downtown Moscow.