This is a week for learning as you can be entertained during lectures, stage productions and talks through the stars. There is a lot more to do. Just check out the calendar, in print or online.
Oct. 12
MOSCOW — The Moscow Historic Preservation Commission will present four Orchid Awards at 5:30 p.m. Oct. 12 in the Fiske Room of the 1912 Center here.
The commission presents yearly Orchid Awards to recognize outstanding examples in Moscow of historic preservation and stewardship. The event will include a slide show and informal discussion among the recipients about their properties.
This year's honorees include restaurant owners, Patty and Matthew Brehm; William Thomson and Joel Cohen; and Graham Lilly; and one private residence owner, Jessica Lucas.
The event is free, and light refreshments will be served. The center is at 412 E. Third St.
Oct. 12 and 14
PULLMAN — Living Voices, an educational theatre company that uses archival film and photos as the backdrop to dynamic storytelling, will present two programs in Washington State University's Jones Theatre this week.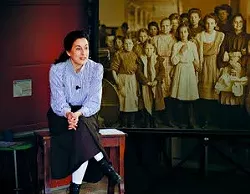 "The New American" will be staged at 7:30 p.m. Oct. 12, while "Klondike: The Last Adventure" will be presented at 2 p.m. Oct. 14.
"The New American" explores a 15-year-old Irish girl's journey to the United States in 1910 and the challenges of American life for new immigrants near the turn of the century. "Klondike: The Last Adventure," is set amid the depression of the 1890s and follows a young woman whose dreams of riches and a better life lead her to join a worldwide stampede for Alaskan gold.
Both shows feature Rachael McClinton, cofounder and artistic director of Living Voices, as the presenter-performer. For each program, she will perform as a composite character based on real people and events.
Each Living Voices program demonstrates how America looked, sounded and felt during significant periods in its history, according to a news release.
Reserved seating for each program costs $10 regular price, $8 for ages 60 and older, $5 for non-WSU students and youth, and free for WSU students with ID.
Tickets are on sale through TicketsWest.com, at (800) 325-SEAT and at WSU's Beasley Coliseum box office.
Oct. 12
LEWISTON — Laura Gronewold, director of education for Ben's Bells Project based in Tucson, Ariz., will give a talk about kindness at 4 p.m. Oct. 12 in the Lewis-Clark State College Center for Arts & History here.
The speech is titled "Kindness Matters: Finding the Strength and Courage to Lead" focuses on how kindness is a powerful skill set that can create positive change in workplaces, schools, families and communities, according to a news release.
Gronewold, who holds a Ph.D. in English from the University of Arizona in Tucson, develops educational programming for Ben's Bells Project.
"The mission of Ben's Bells is to inspire individuals and communities to engage in kindness education and practice," according to the group's website.
Oct. 13
MOSCOW — The West Coast premiere of "ROOF!" staged by the University of Idaho Theatre Arts opens at 7:30 p.m. Oct. 13 at the Hartung Theater on the UI campus here.
The playwright and director, Ricky J. Martinez, is a visiting guest artist of the UI College of Letters, Arts and Social Sciences and Theatre Arts.
The play also will be staged at 7:30 p.m. Oct. 14 and 19-21 and 2 p.m. Oct. 15, 21 and 22 at the theater, 625 Stadium Drive.
The play contains adult language and themes. Admission is $15 regular price, $10 for UI faculty/staff and those age 55 and older, $5 for children and free for UI students. Tickets are available at BookPeople of Moscow, Room 201 in Shoup Hall, by calling (208) 885-6465 or at the door 60 minutes before curtain.
The play revolves around an eclectic group of emerging artists who gather for a Bohemian-style rooftop barbecue when havoc ensues. The cast includes Nathaniel Addison, a theater student from Central Washington University in Ellensburg, and four UI Theatre Arts students: Cesar Reyes and Tiffanie Diaz, both of Antioch, Calif., Cesar Garcia of Martinez, Calif., and Tanner Collier of Wenatchee.
Martinez will hold a discussion directly following the Saturday show.
Oct. 13 and 15
PULLMAN — "Cassini's Farewell," a planetarium show focusing on NASA's Saturn probe, will be shown at 7 p.m. Oct. 13 and 5 p.m. Oct. 15 in the Washington State University planetarium here.
Cassini ended its mission Sept. 15. The probe was launched Oct. 15, 1997, and the spacecraft entered orbit around Saturn on June 30, 2004.
The planetarium is in Room 231 of Sloan Hall and cost is $5. Payment is accepted in cash or check only.
Oct. 16-17
MOSCOW — The two-day 70th annual Borah Symposium will begin with the keynote address, "The Role of Women in World Peace," by Nobel Peace Prize winner and human rights activist Shirin Ebadi at 7 p.m. Oct. 16 on the University of Idaho campus here.
The talk is in the International Ballroom in the Bruce M. Pitman Center. Ebadi is a former chief magistrate of 26th Divisional Court in Tehran.
The symposium continues Oct. 17 with two presentations.
LeRoy Ashby, professor emeritus of history at Washington State University, will give a talk titled "The Life and Times of William Edgar Borah" at 12:30 p.m. in the International Ballroom. Borah, the symposium's namesake, was a U.S. senator from Idaho from 1907 until his death in 1940.
Scott Shapiro will give a talk titled "The Internationalists: How a Radical Plan to Outlaw War Remade the World" at 7 p.m. in the International Ballroom. Shapiro is the Charles F. Southmayd Professor of Law and Professor of Philosophy at Yale University Law School.